Drinking puts 1,500 people in hospital every day
Experts have warned that the number of hospital admissions caused by alcohol consumption has risen by two-thirds in the last five years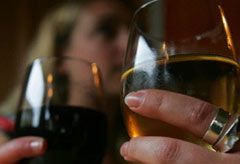 Experts have warned that the number of hospital admissions caused by alcohol consumption has risen by two-thirds in the last five years
Experts have warned that the number of hospital admissions caused by alcohol consumption has risen by two-thirds in the last five years.
Reports reveal more than on average 1,500 men and women are admitted to hospital every day due to alcohol abuse, a 65% rise over five years.
Professor Mark Bellis, director of the North West Public Health Observatory commented, 'The English death toll from alcohol now exceeds 15,500 people every year. Over one in four drinkers exceed weekly limits according to national surveys and alcohol sales figures suggest the number is much higher.'
In addition to the serious health risks associated with drinking too much, more than 400,000 brawls, burglaries and sexual assaults are blamed on alcohol each year, according to the report.
A questionnaire distributed by the NHS Information Centre revealed that 9% of men and 4% of women exhibited signs of alcohol dependency.
Worryingly, Britain's increasing addiction to alcohol is taking an average of seven months off the life of every man and woman, and in the worst affected areas, life expectancy is shortened by up to two years.
Health Minister Lord Howe said, 'Levels of alcohol-related hospital admissions, crime, ill-health and deaths are unacceptable and we have already outlined our commitment to tackling the problem by taking action to stop the sale of alcohol below cost, to review alcohol taxation and price and introducing a tougher licensing regime.'
Celebrity news, beauty, fashion advice, and fascinating features, delivered straight to your inbox!