Don't dine at your desk
Research collated by national charity Living Streets claims 41% of women eat lunch at their desk at least three times a week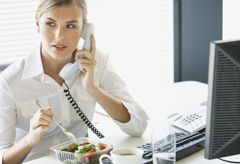 (Image credit: Rex Features)
Research collated by national charity Living Streets claims 41% of women eat lunch at their desk at least three times a week
Many of us are guilty of reaching for a biscuit or two at our desks, but new research from the University of Bristol has shown that eating in front of your computer could make you consume more calories.
Participants who were distracted by their computer screen whilst eating a meal claimed they were less full than those who concentrated on their food. These participants also ate twice as many snacks half an hour later than the others.
'This work adds to mounting evidence from our lab and others that cognition, memory and attention in particular, play a role in governing appetite and meal size in humans,' says leading author Dr Jeff Brunstrom.
Now it's thought distraction during one meal could also increase our intake of food throughout the course of the day, which could significantly impact on weight.
Previous research also suggests that the stress of the office environment has a significant affect on diet. The University of Leeds found that although people ate smaller meals when stressed, they were more likely to snack, and the foods they were choosing were high in fat and sugar.
Interestingly, although women are less likely to eat lunch at their desk than men, medical research shows that their diets are more affected by stress and long working hours, which makes them more likely to give in to snacking.
So perhaps it is time to ban those laptop lunches.
Do you often eat at your desk? Or do you always make time for a lunch break? Let us know in the comments box below.
Celebrity news, beauty, fashion advice, and fascinating features, delivered straight to your inbox!