Cupcakes as addictive as cocaine
Scientists believe high-sugar processed foods could have the same effect on the brain as drugs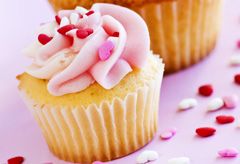 (Image credit: REX)
Scientists believe high-sugar processed foods could have the same effect on the brain as drugs
We all know too much sugar is bad for us, but scientists in the US now claim that products sweetened with sugar are as addictive as cocaine or nicotine.
With 28 studies, into the effects of sugar on the brain, in the past year alone, the scientists say the volume of research indicating the addictive quality of high-sugar foods is so overwhelming that it can no longer be dismissed.
Nora Volkow, director of the National Institute on Drug Abuse says: 'We are finding tremendous overlap between drugs in the brain and food in the brain.
The study found that when binge eaters and compulsive eaters are shown pictures of food the decision-making part of their brain experiences a surge of dopamine in the same way as if a drug addict is shown a bag of white powder.
'People knew for a long time cigarettes were killing people, but it ws only later they learned about nicotine and the intentional manipulation of it,' says Kelly Brownell, from Yale University.
But Richard Adamson, a pharmacologist and consultant for the American Beverage Association ridiculed the idea that junk food is as addictive as drugs.
'I have never heard of anyone robbing a bank to get money to buy a candy bar or ice cream,' he says.
Celebrity news, beauty, fashion advice, and fascinating features, delivered straight to your inbox!