Being left on hold is bad for your health
Waiting in a call centre queue is frustrating, but if you're left on hold for more than five minutes and 58 seconds your health could be at risk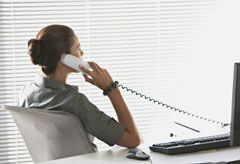 (Image credit: REX)
Waiting in a call centre queue is frustrating, but if you're left on hold for more than five minutes and 58 seconds your health could be at risk
Being kept on hold is annoying, but now experts believe that callers left waiting in a queue are at risk of soaring stress levels and rising blood pressure as they become frustrated with the delay.
The study found that in the past month more than half of Britons have become annoyed while waiting in a call centre queue and of those surveyed, 64 per cent say their frustration is increased further by music that is supposed to calm them down.
Stress expert and GP Dr Roger Henderson says other symptoms of queue-induced stress include a racing heartbeat, sweaty palms and headaches, which could develop into more serious medical conditions such as chronic anxiety or even the breakdown of relationships.
'We live in an age where for many people time is the most valuable commodity of all,' he says. 'The research found an increasing unwillingness to wait in queues.
'Our expectations are now such that if we do not get the service we expect very quickly, our stress levels increase quickly and significantly. When stress levels rise a range of health problems can begin to develop.'
Robbie Hearn from the mobile network giffgaff, who commissioned the poll of 2,054 adults, says: 'Six minutes waiting in a call centre queue is enough to make anyone's blood boil, especially if you don't get the right answer when you do eventually get through.'
It seems that the length of time Brits will wait is dependent on the type of queue. We seem to be more patient in a supermarket waiting six minutes and 32 seconds before becoming annoyed and we will wait for up to 10 minutes and 57 seconds for public transport.
Celebrity news, beauty, fashion advice, and fascinating features, delivered straight to your inbox!