Low-Calorie And Low-Alcohol Wines: What You Need To Know
Low-calorie wines are becoming more popular on the high street, but are they actually worth drinking?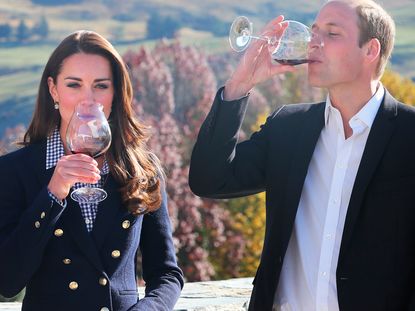 Low-calorie wines are becoming more popular on the high street, but are they actually worth drinking?
We asked award-winning wine expert and author of Wine & Food Jane Parkinson to give us the lowdown on low-calorie wines.
Are low-calorie and low alcohol wines the same thing? No, they're just often grouped together as being 'healthier'.
Which is better? I suppose it depends on your diet! But alcohol carries more calories than carbs (sugars) so lower alcohol is what I would drink if I was on a diet, even if lower alcohol wines can sometimes be sweeter. There are two types of lower alcohol wines though, and only one of which I generally like.
What are the two types of low alcohol wine? One has had the alcohol deliberately stripped, this usually produces wines with very low alcohol, in the 0.5-5% abv range, and this is the style I find difficult to enjoy. The other type is naturally lower in alcohol and can be anything from 5% to 12%, sometimes these can be sweet (but not always) and there are some seriously nice wines to be found in this range.
So this is what you would drink? Yes. I would also make the most of the Champagnes that have had no sugar added to the bottle during the winemaking process, these are often called 'zero dosage' or 'brut zero' or 'brut nature'.
Jane Parkinson
Six low-calorie wines to try:
Ayala Brut Nature 12.5% abv £32, Oddbins or thedrinksshop.com The house of Ayala makes benchmark no added sugar Champagne. Its secret to success is the extra richness balancing out the lack of sugar. Zesty and toasty at the same time, think of the nicest lemon curd on toast you've ever had, then multiply that sensation by a thousand.
Poderi Luigi Einaudi Moscato d'Asti 5.5% abv, £14.49 Ocado A gorgeous lightly sparkling wine from northern Italy. Moscato d'Asti is my go-to wine at the end of a meal when I want something refreshing but with the tiniest kick of sweetness. It's perky, pretty, fruity and best of all it's exquisite with a bowl of fresh strawberries.
Dr L Riesling Kabinett 2013 8.5% abv, £7.16 Asda With its classically attractive aromas of honeysuckle and citrus zest, this German Riesling is zippy-fresh and elegant. Yes, it's a bit sweet too, but it's a beautiful wine that tastes of honey drizzled over ripe pears. For the quality of the wine, this bottle is a fantastic price. McWilliams Mount Pleasant Elizabeth Semillon 2006 10.5% abv, £8.99 Tesco A dry white from Australia, Semillon from the Hunter Valley in NSW is one of the best lower alcohol dry white wine styles around. Baked apples with a bite of fresh lime and lightly toasted pine nuts, try it with grilled chicken and cous cous.
Les Complices de Loire Les Graviers Chinon 2012 12.5% abv, £10.99 Waitrose A dry French red that has loads of charm, it tastes of raspberries mostly, but has a green herbal edge to it as well, which means it would be great served with lean red meat and a lightly-dressed green salad.
Henry Fessy Coteaux Bourguignons 2012 12.5% abv, £9 M&S A dry red with a lightness of touch to it, this is bright and cheery because it's packed with cherry and strawberry flavours. Take it out of the fridge 10 minutes before serving and pair with a salmon stir-fry.
Wine & Food by Jane Parkinson is available to buy from Amazon and Foyles.
Celebrity news, beauty, fashion advice, and fascinating features, delivered straight to your inbox!