Dresses Under £100
Dresses under £100, can you imagine a more guilt-free way to start your summer wardrobe. Neither can we. Check out our Marie Claire edit for a style you'll adore...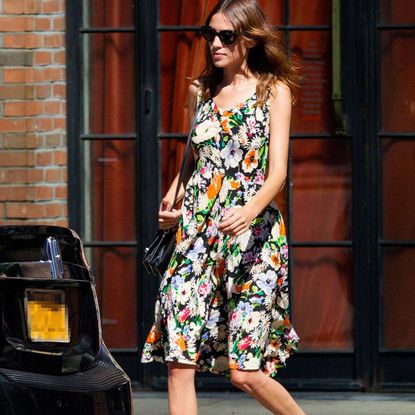 Dresses under £100, can you imagine a more guilt-free way to start your summer wardrobe. Neither can we. Check out our Marie Claire edit for a style you'll adore...
Dresses under £100? There couldn't be a better way to go from summer to fall than with some handpicked new season must-haves at reasonable prices.
Whether you're bored of your workwear and all you need is a new pencil dress, or it's your weekend wardrobe that's lacking, there's definitely a day dress or a beach cover up in here that you'll like.
Channel AW14's biggest trends from florals to monochrome, in the chic loose-fitting shift dresses which are peppering the high street right now. Even if it's getting dressed for going out that's giving you troubles, we're sure one of the bodycon and slinky styles will instantly amp up your look...
Dresses Under £100
Check out our pick of the 50 best dresses under £100...
Topshop Kimono Wrap Front Dress By Boutique, £95
Wrap yourself in a white kimono dress that gives off a minimalist vibe that's right for any time of day, or any part of the season.
Zara Faux Leather Dress, £59.99
Be ready for fall with this faux leather dress from Zara, coming in just under £60.
Hobbs NW3 Layla Dress, £79
Throw this dress on with a pair of white trainers for a totally nautical look that's perfect for celebrating summer in.
Whistles Minna Dress, £95
A navy dress is a great investment for looking smart, whatever the season. And this one comes in just under £100.
Mango Chiffon Caftan Long Dress, £79.99
A dress Stevie Nicks would be jealous of - this chiffon maxi dress by Mango HAs got all the right stuff for a fabulously flowing season.
Reiss Crawford Cornfield Print Fluid Dress, £70
Look sharp without losing that touch of femininity, or breaking the bank with this dress from Reiss.
Lavish Alice Monochrome Black & White Cropped Mini Dress, £45
We love a bit of monochrome, especially when it comes in such a chic silhouette.
Monki Felicia Dress, £25
You'll be festival and fall-ready in this intricately printed maxi dress from Monki.
All Saints Riviera Tavi Dress, £98
Sometimes a little draping is all you need to amp up your look. Try this dress from All Saints at just under £100.
Massimo Dutti Navy Dress With Bow, £89.95
Welcome in the AW season with open arms, and grab up this navy dress for under £100.
Jigsaw St Tropez Kaftan, £79
Still in the summer spirit? This embroidered Jigsaw dress should be yours.
Topshop Pussybow Maxi Dress, £68
An elegant floral maxi dress will make your transition from summer to fall so smooth. Especially with chiffon sleeves that are the slightest bit revealing.
Mango Lace Appliqué Dress, £19.99
Embrace grunge and pair this tartan mini dress will a pair of docs for a perfectly 90's look.
M&S Autograph Sheer Hem Shirt Dress, £69
The all-white trend works for every occasion and this dress is proof. From summer to autumn, work to cocktaik bar.
H&M Dress With Trumpet Sleeves, £34.99
Go bold or go home with this fab retro-style dress from H&M. For under £40, it's practically a steal.
Y.A.S Sleeveless Short Dress, £72.81
Colour block your way into summer 2014 with Y.A.S's Sleeveless Short Dress contrasting camel, black and bright yellow.

BUY IT NOW
Isabel Marant Étoile Lena Ribbed Cotton-Jersey Dress, £60
Effortless style is easy when it comes with such a low price tag. Snap up this Isabel Marant Étoile dress for £60.
M&S Panelled Shift Dress, £69
Sample the all-white styles of SS14 in this Panelled Shift Dress from M&S - perfect for your high summer work wardrobe.

BUY IT NOW
& Other Stories Water Print Dress, £95
The best way to do the drop hem trend is with & Other Stories' Water Print Dress in shades of cool blue.

BUY IT NOW
COS Chiffon Dress, £89
Combining minimalism with chicness is COS' game, and they have certainly won with this chiffon dress.
H&M Bell-shaped Dress, £34.99
Your work wardrobe deserves some TLC from high street fashion favourite H&M. Just take this monochrome H&M Bell-shaped Dress for under £40.

BUY IT NOW
Warehouse Denim Cami Dress, £35
Add a denim cami to your collection - this Warehouse dress is under £40.

BUY IT NOW
Atterley Road Lucille White Maxi Dress, £45
And if you're a bit of a romantic, go for a dramatic white, grecian-style maxi dress.
Motel Rocks Zena Dress, £41.04
Celebrate the end of summer with a festive dress like this Motel Rocks mini dress featuring a refreshing lemon print.
H&M Creped Dress, £29.99
Perfect your sports luxe look in H&M's coral-coloured Crepe Dress with white contouring and a high neckline.

BUY IT NOW
UNIF Charmeuse Dress, £73.87
A chic skater dress is the ideal summer staple. It's so versatile, you can wear it to just about anything; a picnic in the park or a rooftop party. But pair it with some tights and you're good to go for autumn too.
Warehouse Tropical Palm Print Shift, £50
Get holiday-ready in Warehouse' Tropical Palm Print Shift Dress. Smart, sophisticated and seriously on trend.

BUY IT NOW
French Connection Penny Plains Fluted Dress, £60
This dainty dress is maybe all frills but the ultra feminine style can be easily pulled off with a pair of bad-ass moto boots, too.
& Other Stories Psychedelic Print Dress, £95
Does your wardrobe need a modern update? Try a printed dress by & Other Stories for just under £100.
Zara Flower Print Dress, £45.99
Blooms get a new season update with leafy botanicals regining supreme in the printed dress department. Try Zara's tropical Flower Print Dress.