'I may have gone too far' Winona on Stranger Things, social media and the 'tough' years
She's the star of a Netflix phenomenon and she doesn't even use social media, but when you're as iconic as Winona Ryder, you live by your own rules. Here, the Stranger Things actress talks to Helena de Bertodano about settling down, recycling clothes and being the ultimate Hollywood rebel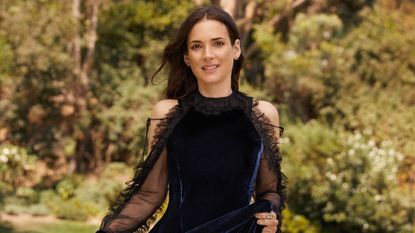 (Image credit: Marie Claire/Camilla Armbrust)
She's the star of a Netflix phenomenon and she doesn't even use social media, but when you're as iconic as Winona Ryder, you live by your own rules. Here, the Stranger Things actress talks to Helena de Bertodano about settling down, recycling clothes and being the ultimate Hollywood rebel
Winona Ryder has only just started talking when we are interrupted by the seductively rasping voice of Leonard Cohen: 'If you want a partner, take my hand…' It's the ringtone of her phone, set to 'I'm Your Man', the title track of Cohen's legendary 1988 album. She giggles as she pulls it out of her jumbled bag to turn it off. On her phone case is an image of Patti Smith, whose music provided the soundtrack to much of Ryder's adolescence.
Spending time with Ryder is like being in a time warp. The 80s – when she starred in a succession of cult movies, including Beetlejuice and Heathers – was her decade, even though she was only a teenager. When the late Terry Wogan interviewed her in 1991 – then 19 and engaged to her Edward Scissorhands' co-star Johnny Depp – he introduced her as 'the most exciting young actress in America today'.
But then, for some reason, her star stopped rising. Despite winning a Golden Globe for her captivating performance as May Welland in Martin Scorsese's 1993 Age Of Innocence, the rest of the decade was less memorable.
'I've definitely done some clunkers,' she says of her subsequent movie choices. In 2001, she was infamously arrested for shoplifting, prompting a trial that revealed her drug use and depression. Aged just 30, it seemed that Ryder would become a footnote in movie history, remembered more for her crime and her relationship with Depp than for her exceptional abilities as an actress.
The 'Winonaissance'
If it wasn't for Stranger Things, the Netflix science-fiction horror series, which has become a cultural phenomenon, that is probably where Ryder would have remained.
An 80s throwback, Stranger Things is an homage to classic Steven Spielberg. And casting Ryder, the quintessential 80s teen outsider, in the lead adult role – a mother deranged by grief when her son goes missing – was a stroke of brilliance. A 'Winonaissance', as it's been called.
'It's so overwhelming,' says Ryder of the reception to the show, which is soon to return for a second season. 'I don't know what it's like for really famous people… I keep hearing that people are dressing up like me [as her character Joyce]. I'm like, "What?"'
We meet at a house in Beverly Hills with sweeping views towards the Pacific, where the Marie Claire cover shoot is taking place. Although only a handful of people are present, at first I don't even recognise Ryder. It's a chilly day and she has wrapped her petite frame in multiple layers: a Joy Division T-shirt under a maroon cardigan and a large suit jacket that belongs to her brother, teamed with a pair of Levi's – 'my dad's jeans from the 70s' – and some battered, maroon lace-up shoes. 'I got them for 60 bucks and wear them all the time,' she says. The whole ensemble is topped with a wide-brim, wraparound, straw sun visor.
It's only when Ryder smiles – which she does often – that she looks familiar. She has a quirky, open smile that lights up her huge eyes, and her face is barely lined, belying her 45 years. Although shy at first, we end up talking for an hour and a half. On the Hollywood bonkers spectrum – and considering the life she has lived – she is impressively grounded.
Her parents, although unconventional, are key to this. Born in 1971, in the small town of Winona, Minnesota (hence her name), Ryder grew up on a commune outside San Francisco. Both writers, her parents were friends of poet Allen Ginsberg and writer Timothy Leary, her godfather.
'We didn't have a lot of money,' Ryder recalls. 'But the love compensation was amazing. My dad would make little things exciting, like bringing home Rolos. There's that saying, "you find your family," but I would have chosen them even if they weren't my parents. They're my best friends.' Initially wary of Hollywood, they told her she could only act if she maintained her grades. Even then, she was only allowed to film during the school holidays.
Ryder won her first role at 13 in high-school movie Lucas. The film's director, David Seltzer, said, 'She had the kind of presence I had never seen – an inner life. Whatever message was being said by her mouth was being contradicted by the eyes.'
Bullied at school, Ryder thought her film career would boost her popularity, especially when she made comedy horror Beetlejuice in 1988 (in which she played goth teenager Lydia Deetz). 'I remember thinking, "Ooh, it's like the number-one movie. This is going to make things great at school." But it made things worse. They called me a witch.'
When it comes to advice on acting roles, Ryder turns to her parents. Her father, an antiquarian bookseller, locates out-of-print books to help her. 'When I did Girl, Interrupted [about a young woman who finds herself at a mental institution], my dad got me this amazing Mary Ellen Mark book [showing photos of women in the maximum security section of Oregon State Hospital].' Ryder describes herself as an avid reader, dragging a mountain of books around wherever she goes.
'I always have Leonard Cohen On Leonard Cohen – it's like Linus with his blanket,' she says, referring to the Peanuts character who is never seen without his security blanket. Not having children herself, Ryder asked her mother for advice during the shooting of Stranger Things.
'I said, "Mom, if every bit of logic is telling you your kid is gone, would you still [refuse to believe it]?" And she said, "Absolutely." I said, "What if they show you a body?" She said, "If you don't see it happen, you don't believe it." It's a weird, primal thing. But I may have gone too far: it seemed like every day I was crying or freaking out.'
The early noughties 'tough times'
Her parents were also there to help pick up the pieces when she temporarily threw in the acting towel after her shoplifting trial in 2002, and returned to San Francisco. 'My hiatus,' she says, rolling her eyes. 'Whatever they want to call it – I did take time off. It was mutual, I think. I just went through a tough time.'
It didn't help that the early noughties were not really the era for a counter-culture rebel like Ryder, and she had to stand aside for a succession of perfect girl-next-door types – the Jennifers, the Gwyneths, the Reeses. But it did show her that there was more to life than Hollywood.
'I'm not in any way comparing myself to Daniel Day-Lewis [who recently announced his retirement from acting], but you do become interested in other things.' So, Ryder became immersed in the study of constitutional law, sitting in on lectures at Berkeley College – 'There were a lot of laws that I disagreed with' – and for a few days even joined environmental activist Julia Butterfly Hill, who was spending two years living in a redwood tree.
Making her return to acting in 2006, in Richard Linklater's sci-fi animation A Scanner Darkly, before appearing in Black Swan (2010) as an embittered, ageing dancer, I wonder if she felt compromised by the lack of roles in her midst?
'There are definitely times when it feels like there's a real drought. It's like that line in First Wives Club: "There are only three ages for women in Hollywood – Babe, District Attorney and Driving Ms Daisy." Or mother, which I am now. Luckily, [Joyce in Stranger Things] is not a cookie-cutter character; I get to do some more stuff with it. But it's also hard to complain,' she continues. 'You think about what's going on in the world right now and (puts on a babyish, petulant voice), "There's not enough roles for me! I want to be…" So it's a tricky conversation. There are women who are facing much harder things all over the globe.'
Ryder worries about the child stars of Stranger Things, who have to endure much more intrusion than she ever did. 'I'm grateful that I got to start at the time I did. As much as I love it, I don't know if I would even have become an actor [if I was starting out now]. I wouldn't know how to [handle it]. I do worry about the massive exposure at that age.'
But, she says, the child actors on the show seem to take everything in their stride. 'Millie [Bobby Brown, who plays the enigmatic Eleven] teases me. I'm like the old grandma.' She adopts a wobbly voice: 'What are you kids doing?' She laughs, thinking of the occasion she mistook the Snapchat messaging app for some kind of snack: '"Snack chat? Give me a piece of that!" I'm like the confused older person [on the set].'
Ryder, who once remarked that the tombstone on her grave would say, 'Fuck you', remains vehemently non-conformist. 'I think it's ridiculous that you can get in trouble for wearing the same dress again. I wear things over and over because I like them. Look at the economy. Should we really be out there saying that you're not allowed to re-wear something?'
With a history of relationships exhaustively chronicled in the press – Matt Damon as well as Depp – these days she keeps her private life firmly out of the limelight. Since 2011, she has been in a relationship with Scott Mackinlay Hahn, a fashion designer, and she relishes being with someone who's not in the film industry. 'I think it's healthy, and I enjoy feeling a bit more settled now.'
Settling down
The actress once said she would rather never marry than have a marriage that one day ends in divorce. Have her parents set the bar so high, she feels she can never emulate their relationship? 'They are madly in love, they're like teenagers. It's embarrassing sometimes,' sighs Ryder affectionately. 'I've had relationships that haven't worked out. But when you have that as your gold [standard], and you know that's the way it should be…' She shakes her head, 'Oh, man!'
Ryder has just shot an independent movie called Destination Wedding with Keanu Reeves – the fourth time they've appeared in a film together. ('He's a really old friend of mine. Most of my friends are friends that I've had since I was 15.') And there is already talk of a third – and perhaps even a fourth – season of Stranger Things, although she is reluctant to think too far ahead.
Where does she see herself in ten or even 20 years' time? 'I honestly don't know if the world is going to exist then,' says Ryder. 'Everything is changing so fast. I've never been very strategic. I think if you try to be strategic, you just end up failing.'
One thing is for certain, we are unlikely to see this inimitable 80s icon on social media any time soon. 'People who I really respect talk about "relevance" but I'm like, "I don't care, leave me alone."' Well, she's managed fine without it so far, and long may she continue.
Stranger Things 2 launches on Netflix on 27 October
Celebrity news, beauty, fashion advice, and fascinating features, delivered straight to your inbox!
The leading destination for fashion, beauty, shopping and finger-on-the-pulse views on the latest issues. Marie Claire's travel content helps you delight in discovering new destinations around the globe, offering a unique – and sometimes unchartered – travel experience. From new hotel openings to the destinations tipped to take over our travel calendars, this iconic name has it covered.