Joni Mitchell's Colourful, And Often Tragic, Life Story
Her confessional lyrics and haunting voice have inspired artists from Taylor Swift to Madonna. But it was a tragic secret that gave Joni Mitchell her voice.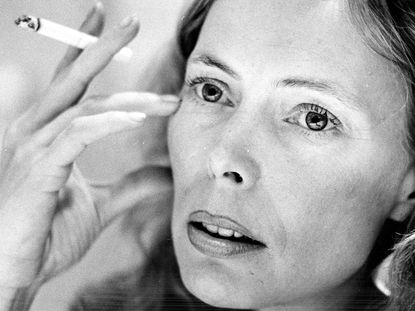 Her confessional lyrics and haunting voice have inspired artists from Taylor Swift to Madonna. But it was a tragic secret that gave Joni Mitchell her voice.
Lying in her hospital bed watching the blizzard outside pelt snowflakes against the window, Canadian art student Joni Anderson makes a decision that is to change her life. In despair, she decides to give up her newborn daughter for adoption. She's unmarried, just turned 21, has no job, no money and no roof over her head. This is the early Sixties and single motherhood is hugely stigmatised. In her mind, she has no choice. Little does she know that the aching despair and grief about what she is doing now will be a source of musical inspiration for the next five decades. The young mother would go on to become one of the most celebrated singer-songwriters of all time.
As Joni Mitchell celebrates her 71st birthday this month, Hollywood is preparing to bring her dramatic life to the big screen in a film starring Taylor Swift, also famed for her confessional lyrics, famous lovers and folk ballads. It's set to be the role of a lifetime for Taylor, who admits she was inspired by the artist herself. But whether the 23-year-old is ready for the emotional rollercoaster that playing her idol will involve remains to be seen. Because, while giving up her baby was undoubtedly the most gut-wrenching moment of Mitchell's life, it's not the only trauma she's faced. Two failed marriages, doomed love affairs, rejection from fans and a psychotic illness have made her life one of the most colourful in the music business.
Mitchell was raised in the rural province of Saskatchewan, in Canada, the only child of Bill and Myrtle Anderson; he was a grocer and she a housewife. Joni, a precocious, artistic child, remembers they weren't well off. 'My family could only afford the box of eight Crayola crayons, but I craved the one with all 24 colours,' she recalled.
Mitchell's childhood was blighted, aged nine, when she contracted polio, leaving her left arm weakened and leading to muscular atrophy in later life. It was a terrible blow, but she remembers spending her time in hospital singing. And yet, it was art that was her overriding passion. A talented painter, she studied at a local college, and it was there that she accidentally fell pregnant. The father was a fellow artist called Brad MacMath, who, on hearing the news, fled to California. Terrified her parents would find out, Mitchell left her home town for Toronto. 'I was the only virgin in art school. I was holding on to this precious thing and stupidly let it go. I got caught out immediately,' she later said. 'I was a criminal, a fallen woman.'
'It was a huge scandal to be pregnant out of wedlock back then,' says Sheila Weller, author of Girls Like Us, the book about Mitchell's life upon which the biopic will be based. 'It was like she'd killed somebody. So she goes and does this heroic thing – she goes across the country by herself to deal with it.'
Unable to talk about what she'd done, Mitchell found her voice in music. She began singing and playing her guitar in local coffee shops, and weaved her internal agony into her lyrics. It was through the performance circuit in 1965 that she met her first husband, folk singer Chuck Mitchell. They moved to New York the same year and seemed happy for a while. But the marriage ran into difficulties because she felt he stifled her creative freedom. 'To get away from him, I would go out and drink coffee and write,' she explained. She also described the relationship as a 'marriage of convenience', saying he'd promised to help her get her daughter back if they married – but never did.
The marriage lasted just two years, and Mitchell's subsequent divorce triggered a new sexual freedom for the singer, who moved into a flat on her own in New York. 'It was unusual for a young woman to live by herself, to decide that she wanted to take a different lover,' adds Weller. 'That was very new then and Joni pioneered it.'
Mitchell's astonishing, raw talent had New York's music scene falling over itself to welcome her. Talent agent David Geffen, who later founded Geffen Records, one of the most successful labels ever, was an early champion, promoting her to his peers, while legendary singer-songwriter Leonard Cohen was desperate to work with her.
Mitchell wrote some of her most memorable songs during this time, including Chelsea Morning and The Circle Game, inspired by her new single life. Her gravelly voice, the legacy of an ingrained smoking habit, became her trademark. Later, she would reflect on the irony of how quickly success came after she gave up her child. 'Three years later, I had a recording contract and a house and a car, but how could I see that in the future?'
In late 1967, Mitchell's private life took a new turn when she met David Crosby, of Seventies supergroup Crosby, Stills, Nash & Young, and moved to LA with him. They lived in Laurel Canyon, a neighbourhood famous for its hippy inhabitants, including The Mamas & The Papas. The Beatles and Rolling Stones would stop by for parties whenever they were in town. Her relationship with Crosby briefly flourished, but Mitchell was a complex character. 'It was very easy to love her, but turbulent,' he said. The relationship ended a year later, with Mitchell, who was embracing the free-love movement of the Seventies, moving on to a fling with his bandmate, Graham Nash. Other lovers to share her bed over the coming years would be fellow singer-songwriters James Taylor and Jackson Browne, actors Sam Shepard and Warren Beatty and jazz musician Don Alias.
While her love life was complicated, musically Mitchell hit her stride in LA, winning her first Grammy in 1970. Her first six albums sold 4.6 million copies, including the seminal Blue album, hailed as a masterpiece and one of the best of the past 50 years. Mitchell didn't just bare her soul for Blue, she mined it, digging deeper than any songwriter had ever dared. Everything that had happened to her – losing her child, broken love affairs, struggling with fame – tumbled out. 'Joni's lyrics were hard fought,' says author Weller. 'She had to work hard to go so deeply inside herself. It was a moment of great vulnerability when she pulled those lyrics out.'
Overnight, Mitchell's fame eclipsed the other popular female singers of the day, mainly Aretha Franklin, Carole King and Janis Joplin. FÍted by critics and fans alike, two of the greatest performers of the time, Frank Sinatra and Bing Crosby, asked to cover her songs, and her gigs were instant sell-outs.
But at the time, she was criticised and acclaimed in equal measure for her emotional honesty. 'I was being told that people were horrified by the intimacy [of Blue],' explained Mitchell. 'People said it was shocking. It wasn't. It was about human nature. It's a soul trying to find itself and seeing its failings and having regrets.'
Taylor Swift ranks Blue as her favourite album of all time. 'Joni wrote it about her most haunting pains and her deepest demons,' she's said. Every major music star, from Prince to Courtney Love, has since covered Mitchell's songs. Madonna cites Mitchell as a major influence on her career, saying, 'Blue is amazing. I would have to say of all the women I've heard, she had the most profound effect on me from a lyrical point of view.' But the knock-on effect of Blue's success meant Mitchell had to perform those deeply personal songs at one sell-out gig after another. The emotional toll was huge. 'Some people would call it a nervous breakdown, but I just hit that pocket that everyone does on some point in their journey through their lives,' she recalls. 'That identity crisis, that "Who am I, really?" If you're lucky, it hits you early, like me.'
Mitchell exiled herself from LA's music scene, moving to British Columbia in 1972, where she continued to write. She followed up Blue with the equally acclaimed Court and Spark, but couldn't let go of the past. 'The songwriting was almost like something I did while I was waiting for my daughter to come back,' she conceded.
By the Eighties, Mitchell was in the music wilderness, as a foray into jazz alienated her from her fan base. In 1986 she performed at an Amnesty International benefit, and her set was cut short when the crowd booed her. At the same time, her second marriage, to music producer Larry Klein, began to fall apart after a decade.
Then, in 1997, the news she'd always been waiting for finally arrived when she received a letter from a 32-year-old Canadian woman, Kilauren Gibb, saying she believed Mitchell was her biological mother. Gibb's birthday was 19 February 1965, and her adoption papers described her birth mother as 'a Saskatchewan folk singer who had moved to the United States'. The facts were undisputable: Gibb was the baby Mitchell had given up. They met a week later, at Mitchell's $9 million mansion, in a blaze of publicity. Gibb later said of the first time they hugged, 'It felt like I'd gone away on a trip for a couple of months and I was coming home.'
However, tensions grew and in 2000 the police were called to Mitchell's home when Gibb claimed her mother had attacked her. Their subsequent estrangement was a bitter blow for Mitchell, and again she retreated from public life. Meanwhile, she had developed an illness called Morgellons syndrome, in which sufferers become convinced they've been infested by parasites and suffer painful skin lesions. To onlookers, it appeared like a physical manifestation of the psychological problems she was struggling to overcome.
Today, back on speaking terms with Gibb, Mitchell continues to lead a reclusive life, but did make a rare appearance in June at a concert in Toronto to mark her 70th birthday. Her voice was as mesmerising as ever, her lyrics just as moving. But when asked before the concert if she would change anything about her life, she insisted, 'no'. 'I have no doubt that my life unfolded as it was supposed to.' Only time will tell whether the film does justice to such a dramatic life story.
Celebrity news, beauty, fashion advice, and fascinating features, delivered straight to your inbox!
The leading destination for fashion, beauty, shopping and finger-on-the-pulse views on the latest issues. Marie Claire's travel content helps you delight in discovering new destinations around the globe, offering a unique – and sometimes unchartered – travel experience. From new hotel openings to the destinations tipped to take over our travel calendars, this iconic name has it covered.