A female author has called out the sexist way women's books are reviewed
'It's frustrating to work hard on a piece of art and felt it dismissed, compared only to other books by women, considered a "beach read" for some reason.'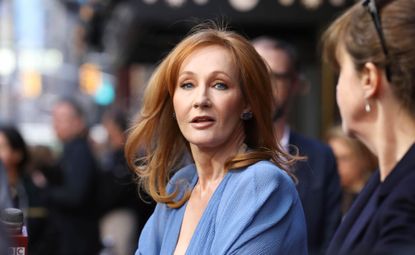 (Image credit: Mark Von Holden/Variety/REX/Shutterstock)
'It's frustrating to work hard on a piece of art and felt it dismissed, compared only to other books by women, considered a "beach read" for some reason.'
We've all heard people wax lyrical about memoirs like Jack Kerouac's On The Road, Che Guevara's Motorcycle Diaries and Ernest Hemingway's A Moveable Feast - all fantastic books, and all written by men. While these novels tend to be celebrated and even studied at universities, one female novelist has called out the double standard in the way that women's memoirs are reviewed and the internet seems to agree.
Dana Schwartz, the author of Choose Your Own Disaster, said that she had seen a trend of people calling her book a 'guilty pleasure' and she wasn't very happy about that.
She said on Twitter, 'I can't remember the last time I saw a book written by a man called "a guilty pleasure". It's frustrating to work hard on a piece of art and felt it dismissed, compared only to other books by women, considered a "beach read" for some reason.'
Dana continued, 'I mean, by all means, please read my book on the beach. But it's about eating disorders & BDSM & sexual assault and the impossible standards for women. It's only a beach read in the sense that the cover is hot pink aka the color my skin turns if I spend 6 minutes on the beach'.
Her memoir, which she described on Twitter as 'if a personality quiz and a memoir had a baby that grew up to suffer from anxiety and depression', doesn't seem to be akin to the light hearted chick lit that usually falls into the same category.
She said, 'Men who write memoirs are introspective and funny and deep. Women's stories are all lumped together as self-deprecating and adorkable chick-lit.'
'Again, this isn't new or news. But it's very weird seeing it applied to my book about depression and bad sex and jealousy and violence and recovery. My book with a pink cover,' she finished.
It's no secret that women have been fighting for equal footing and respect in a male-dominated literary world, especially as they've had to battle sexist remarks, reviewers and difficult barriers to entry for a while now. Male author V.S. Naipaul for example told The Guardian in 2011 that he felt female writers were 'unequal' to him due to the fact that their work was 'sentimental' and 'feminine tosh'.
More recently, J.K. Rowling stepped in to defend debut female author Laura Kalbag after a Twitter user took it upon himself to mansplain that she hadn't written a book - she had written a 'text' which other people transformed into a book.
She told her at the time, 'Congratulations on writing your first book, Laura. Other people edited, copyedited, proofread, printed and bound it. You wrote. Be proud x'
It's not like J.K. Rowling hasn't faced her own share of sexism in the industry, as apparently her publishers told her to use her initials rather than her real name to hide the fact that she was a woman - thinking that Harry Potter would sell better if people thought she was a man.
P.S. If you're looking for some incredible memoirs by women, read Bossypants by Tina Fey, Wild Swans by Jung Chang, Girl, Interrupted by Susanna Kaysen, I Am Malala by Malala Yousafzai and How to Be a Woman by Caitlin Moran. Happy reading!
Celebrity news, beauty, fashion advice, and fascinating features, delivered straight to your inbox!
Megan is a freelance journalist who covers entertainment and all things lifestyle, with a particular passion for fashion, beauty, travel and Keanu Reeves stories. She has previously worked on staff for titles including Marie Claire UK, CNN Style and The Evening Standard and has written for titles such as Bustle UK, Wallpaper*, Forbes and Hong Kong Tatler. She splits her time between London and her hometown Hong Kong, where she currently lives with the love of her life - an elderly dog named Poppy - and her husband.