This is what we've learnt about Cameron Diaz after reading her health and fitness book..
The Body Book, the new health and fitness manual by Cameron Diaz, has offered up some interesting insights about the Hollywood star.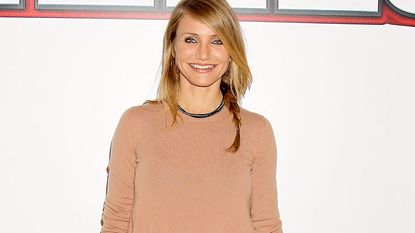 (Image credit: Startraks Photo/REX)
The Body Book, the new health and fitness manual by Cameron Diaz, has offered up some interesting insights about the Hollywood star
Here's what we've learnt about the lovely Cameron Diaz:
1. She can give one hell of a pep talk.
Cameron opens her book with a speech so rousing, she could give Oprah a run for her money. You're right, Cameron, we are beautiful.
She writes: 'You will be the most beautiful and healthy and confident woman that you can be, and you deserve that, because YOU ARE MORE BEAUTIFUL THAN YOU HAVE EVER IMAGINED. Whether you wish you had longer legs or smaller hips, bigger boobs or less pointy ears, this book is for you. It's a guide to accepting what you have and loving it with everything you've got, to appreciating how incredible this physical vehicle is. It's a guide to maximizing your strength and endurance so that your body can take you everywhere you want to go in life: to all of your success, to the love of your life, to your passions and adventures.'
2. She, too, suffered from acne as teenager.
'While I was eating burgers and burritos and onion rings and french fries and sodas, I had the worst skin. I mean, I had terrible, terrible skin. It was embarrassing, and I did everything I could think of to make it go away. I tried to cover it with makeup. I tried to get rid of it with medication - oral, topical, even the harshest prescriptions. Nothing helped for very long. The pimples were still there through high school and into my twenties, while I was modeling and acting. It was really challenging to cover them up for the cameras; it was awkward and embarrassing and frustrating, and I always felt really bad about myself.'
3. But she genuinely does love the gym...( just when we thought we could relate to her.)
'Personally, I love the gym. I love being around people who are sweaty and pushing themselves. Who are all focused on the same goals. I love being in a group like that.'
4. She has some pretty strong views about your hair down there...
'I think permanent laser hair removal sounds like a crazy idea. Forever? I know you may think you'll be wearing the same style of shoes forever and the same style of jeans forever, but you won't. The idea that vaginas are preferable in a hairless state is a pretty recent phenomenon - and all fads change, people. All fads change. Twenty years from now, you will still want to be presenting it to someone special, and it would be nice to let him or her unwrap it like the gift that it is.'
5. She wasn't always the health goddess she is now and reveals that she didn't start looking after herself until she was in her mid-twenties.
'I was twenty-six years old. I had just quit smoking. I had poor eating habits. I had no strength. Then I was cast in the Charlie's Angels movie. It was autumn, and Drew Barrymore and I arrived to train for our roles on set. Cheung-yan Yuen, who was our martial arts master, was there, along with all of our trainers. We were so excited. Woo hoo! We had no idea what we were getting ourselves into. Cheung-yan Yuen began to speak, and the interpreter translated his words for us. 'Today,' he said, 'I'm going to introduce you to your new best friend. You're going to learn to love your new best friend. You're going to have him with you all of the time. You're going to cherish him. And he's going to be a part of your life.' We were so excited. We looked at each other, as if to say, who could it be? And Cheung-yan Yuen said, 'Your new best friend is pain.'
6. Don't ask Cameron for a lunch date on a Sunday. It will not go down well...
'In my house, on Sundays, you can usually find me in the kitchen getting my food ready for the week. I tell my friends that I can't meet for lunch; I tell my nieces and nephews that if they want to hang out, it will have to be at my house. I make sure not to have any meetings or calls scheduled during that time, because that time is SO IMPORTANT for me. It's the time that sets me up for a successful week, for feeling good, for knowing that I am taking care of myself.
7. She has a weakness for cheese. Amen, sister.
'I love cheese. String cheese, Cheddar, goat, Parmesan, Gouda, feta, blue, double-triple-cream, Brie. I love that cheese.'
8. And carbs...
'I love being active and being able to be mentally present and aware. And therefore, I love carbs. I love them! LOVE THEM!! They are what give me the energy I need to do all the things that I love to do.'
9. She really, really isn't worried about ageing. And, do you know what? We believe her.
'A lot of us fear the idea of ageing - getting older, being less mobile, having less energy, and being less of ourselves. But I look at ageing like this: getting older is a blessing and a privilege, and if you lay the foundation for a healthy life in your younger years, your older years may very well be some of the best of your life. And the point I'm making is not about keeping up your youthful appearance. This is not about beauty and the aesthetics of our bodies. I want you to feel young. I want you to feel strong. I for one can say honestly that I feel better and stronger and more capable now than I did when I was twenty years old, because I've taken better care of myself in the last fifteen years than I did in the first twenty-six years of my life.'
10. If she could give you just one tip for a healthy life, it would be to drink shed loads of water.
'Every night before I go to sleep, I fill up a big glass bottle with water and put it on my bathroom counter. First thing in the morning, right after I brush my teeth, I drink it. Because I know that during the night, while I am sleeping, all of that breathing in and out exhales a lot of moisture from my lungs. Imagine how much water you can lose during eight hours of breathing! Because we can't replenish it while we are sleeping, it's important to rehydrate once we wake. Once I drink the water in the bottle by my sink, I feel it immediately. I go from being a wilted plant to one that has just been rejuvenated by the rain.'
11. She hated her body when she was a child.
'I did not like my body when I was a kid. I was all skin and bones, all arms and legs. I was really, really skinny, and the other kids let me have it because of that. I hated being skinny. Being made fun of feels terrible, no matter what the reason is, no matter who you are.'
12. Her make-up artist won't touch Cameron's face until she's eaten.
'She will refuse to do my makeup until I eat, because as soon as I take two bites, three bites, my skin changes. Then my skin can hold the makeup. Then Robin will look at me under the lights and declare that we are ready to start.'
13. She really can't sit still.
'I don't like to just wander from place to place. I like to move with purpose. I look at every moment as a chance to pick up the pace of my movement throughout the day. I run to hair and makeup from my trailer. I dash back to my trailer if I've forgotten something. If I need to ask someone a question, I sprint to their trailer.'
14. And this is her secret to success...
'At the core of every successful person there is one common thing: discipline. When I think how I define success in my life, I know that strength is important to me and being capable is important to me and feeling good is important to me. I could not achieve any of those things without being disciplined! Everything I have comes from discipline. I do what I do because I make myself do it - every day - whether I'm working on a film or on a break between projects. Because my work is not just my job : my work is all the things that I need to do in order to create the life that I want to live.' Cameron Diaz's The Body Book is available to buy on Amazon now.
Celebrity news, beauty, fashion advice, and fascinating features, delivered straight to your inbox!