If you seriously want to boost thinning hair, you need to know about this treatment
The next gen of micro grafting has arrived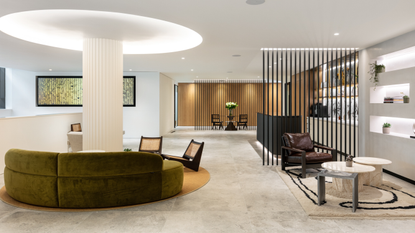 (Image credit: Ouronyx)
At 14, I hated how thick my hair was. Let me qualify that with some information about why I considered my abundant mane to be so frustrating: it took a long time to dry; it frequently wouldn't fit into hair bands, breaking weaker ones; and all hairdressers commented on how much hair I had (and as a teenager, I found all comments on my appearance, negative or positive, mortifying). I used to fantasise about having Kate Moss's slightly thinner lengths, lying across my shoulder insouciantly rather than bouncing around my head looking enthusiastically present.
It feels trite to say I didn't know how lucky I was but really and truly I didn't realise how damn lucky I was. I learned my lesson the hard way as soon as my hormonal imbalances thanks to polycystic ovarian syndrome started to rob me of my once thicker-than-thick hair which lost volume, looked a little limp, and started to require root-lifting products and hairsprays to create what nature had once given my ungrateful self on a plate.
It would be a lie to suggest that this didn't affect my confidence. Of course it did; a change of any sort physically can be hard to reckon with, but hair thinning is famously difficult to overlook, perhaps due to all the associations hair has culturally with femininity, robust health, and fertility.
While lots of brands produce things to tackle the appearance of thinning hair, I was thrilled to see a more permanent and scientifically-solid solution thanks to Ouronyx, the luxury aesthetics clinic with a holistic approach, who offer a pioneering treatment using an innovative new technology called Autologous Micrografting Technology (AMT).
It works in tandem with the skin tissue, which, on the scalp, is rich in growth factors and progenitor cells, meaning the tiny skin grafts, once placed in a device to extract the cells and then injected into the thinning areas to stimulate existing follicles, result in longer and thicker hair.
Dr Marco Nicoloso at Ouronyx explains that "unlike other treatments like PRP, it includes progenitor cells, which are key for stimulating hair growth," and that "AMT is an incredibly effective treatment—and far less invasive than a hair transplant."
The results are hugely impressive, with in-vitro studies showing that hair density was significantly increased, as were the number of follicular units (subject to the scalp region—though handily the improvements were most remarkable in the frontal region, where hair thinning is most noticeable). On average, patients treated with AMT to date showed between 5-7 new hairs per cm2. These favourable outcomes were present in up to two-thirds of patient's in the first six months following treatment.
It's worth noting that the treatment is specifically created for androgenic alopecia, which is the most common form in both men and women. Prior to being treated, the team at Ouronyx scan the scalp to make sure it's a good fit for your specific type of hair loss. In my case, while I was shown to have some thinning, I wasn't suffering from the right sort of hair loss for the treatment—although I was pleased to find that they checked so thoroughly before going ahead to make sure people don't lose time, money, and energy on a treatment which wouldn't positively impact their head of hair. Above all, its just impressive to see such huge strides being made in treatment for hair loss—particularly for women. And for those for whom it solves their thinning hair conundrum, I'll be cheering you on as you break feeble hairbands once more.
Celebrity news, beauty, fashion advice, and fascinating features, delivered straight to your inbox!
Madeleine Spencer is a journalist and broadcaster who has contributed to titles including Grazia, Glamour, InStyle, The Independent, The Evening Standard, and Stylist, as well as offering commentary for the BBC, Sky News, and ITV.
She is keen on exploring the significance beauty rituals, products, and memories have on people from different walks of life, and enters into conversation on the topic with guests on her podcast, Beauty Full Lives.