Sexism rife at work, Marie Claire survey suggests
Eighty per cent of women think that being attractive helps them get on better at work and more than half believe a woman's age is considered more important in the workplace than a man's according to a shocking new survey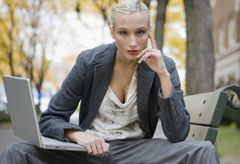 (Image credit: Rex Features)
Eighty per cent of women think that being attractive helps them get on better at work and more than half believe a woman's age is considered more important in the workplace than a man's according to a shocking new survey
Eighty per cent of women think that being attractive helps them get on better at work and more than half believe a woman's age is considered more important in the workplace than a man's according to a shocking new survey.
What's more, 61 per cent of women think men are better at getting pay rises and promotions than women according to the study on attitudes to working life.
Marie Claire and everywoman, the women in business network, commissioned the national survey of 3,000 women aged between 18 and 55. And the results were startling.
CLICK HERE TO FIND OUT MORE ABOUT OUR INSPIRE & MENTOR CAMPAIGN
It turns out that sexism is still rife in the workplace and when it comes to pay, promotion and age, women are still at a disadvantage.
Half of us believe that the glass ceiling exists - but we don't think that positive discrimination is a good thing.
When asked what would have the biggest impact on helping women climb the career ladder, most of you said having a mentor would help.
In fact, a whopping two thirds of us think mentoring is essential but few of us (72 per cent) have ever been given the opportunity.
Trish Halpin, editor in chief of Marie Claire, says: 'The results prove that there is a real need for mentoring in the workplace to help women fulfill their potential.'
So here at Marie Claire HQ, we're taking action. For the second year running, we've joined forces with The Prince's Trust and some of the UK's most inspirational and influential women to bring you Marie Claire's Inspire & Mentor campaign
High profile women from the world of film, fashion, beauty and business will mentor Marie Claire readers throughout the 12 month campaign – including model turned baker Lorraine Pascale, author and producer Jane Fallon, Space NK founder Nicky Kinnaird, BSkyB MD Sophie Turner Laing and make-up artist Jemma Kidd.
WANT TO BE MENTORED? CLICK HERE
Celebrity news, beauty, fashion advice, and fascinating features, delivered straight to your inbox!