Women don't want roses for Valentine's
If you're fed up with clichéd Valentine's presents, you're not alone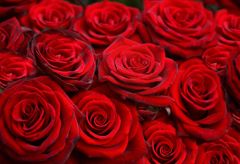 (Image credit: REX)
If you're fed up with clichéd Valentine's presents, you're not alone
Two in five women would rather receive a personalised gift rather than the typical red roses or a box of chocolates for Valentine's, says new research.
The survey, by online marketplace notonthehighstreet.com, found that 43 per cent would least like to receive a cuddly toy, with roses and underwear following closely behind.
Almost half of those asked are longing for athoughtful gift this year, with only 25 per cent having received a personal gift on a past Valentine's Day.
'Valentine's Day is all about showing someone special how much you care,' says Holly Tucker, co-founder of the online retailer. 'Adding a personal touch makes an ordinary gift, extraordinary.'
According to the survey, the most popular gifts include engraved jewellery and personalised art prints.
David Holmes, senior lecturer in Psychology at the University of Manchester, concludes that there is a female need that is not being fulfilled.
'It's heartening to see that people prefer personalised gifts, and it's not surprising that women prefer the personal touch when it comes to celebrating love.'
Despite disliking famously commercial presents, however, Mr Holmes says: 'Don't forget – everyone wants a card!'
Celebrity news, beauty, fashion advice, and fascinating features, delivered straight to your inbox!