We fall in love four times in a lifetime
You might want to hang on to the love of your life as research claims we only fall head-over-heels four times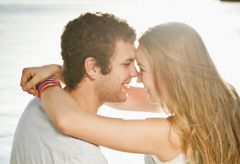 (Image credit: REX)
You might want to hang on to the love of your life as research claims we only fall head-over-heels four times
So apparently there aren't plenty more fish in the sea when it comes to falling love.
You might already have found the one according to research carried out by Opera North which found the average person only falls in love four times.
Findings suggest most of us settle down at the age of 27 and 33 per cent do so with their first love. But over four in 10 admit settling for second best and regretting letting their first love go.
It seems our 20s are the prime for finding love with eight out of 10 people falling head-over-heels, while four out of 10 fall in love in their 30s and almost a third find love in their 40s.
The survey of 2,000 adults also reveals 41 per cent of people have fallen in love with someone they shouldn't have, with a colleague being the most likely source of their affection.
But despite the consequences of forbidden love 77 per cent of people believe you can't help who you fall in love with.
Celebrity news, beauty, fashion advice, and fascinating features, delivered straight to your inbox!