Russian oligarch's ex wife wins £12.5m after unfair pre-nup
The former wife of a Russian oligarch has won £12.5 million after a judge ruled the postnuptial agreement she signed was unfair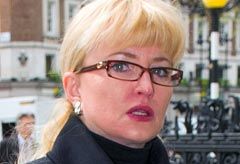 (Image credit: Rex Features)
The former wife of a Russian oligarch has won £12.5 million after a judge ruled the postnuptial agreement she signed was unfair
Janna Kremen has won a £12.5 million divorce payout after the prenuptial agreement she signed 10 years ago was deemed unfair.
The pre-nup, signed by the former wife of Russian oligarch Boris Agrest, limited her claim to his £20-30million fortune to just £970,000, despite the couple beingmarried for a decade.
But a High Court has ruled the pre-nup as highly disdvantageous and Miss Kremen's claims for a £2 million housing fund and annual income of £420,000 a year for two of their three sons as reasonable for their needs.
Janna Kremen, 44, launched her legal battle for a divorce payout after her marriage disintegrated in 2007 after Mr Agrest vowed to leave her and their three sonsdestitute.
During the case it emerged that Mr Agrest had moved out of the couples £4 million home in Weybridge, Surrey to another nearby £3 million estate with a 19 year-old woman.
'It would be grossly unfair to hold the wife to an agreementwhich deprived her of her fair share of a fortune, to the formation of which she has in her own way equally contributed,' says Mr Justice Mostyn.
Julian Hawkhead, of Stowe Family Law, says: 'As with prenups, certain prerequisites ought to be met, including the provision of full financial disclosure, no undue pressure on the parties to enter into the agreement and the opportunity to take legal advice.'
Celebrity news, beauty, fashion advice, and fascinating features, delivered straight to your inbox!