Parents could be barred from knowing sex of unborn baby
The Council of Europe could prevent expectant mothers knowing the sex of their unborn baby following a new ruling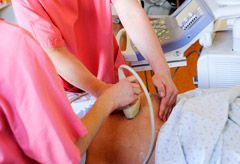 (Image credit: Rex Features)
The Council of Europe could prevent expectant mothers knowing the sex of their unborn baby following a new ruling
Technology has enabled mother-to-be to know the sex of their unborn child if they so wish, but a new ruling in Europe could put an end to this information in a bid to prevent selective abortions based on gender.
According to a draft resolution passed by a Council of Europe equal opportunities committee, doctors should be told to withhold information about the sex of the foetus.
The recommendation covers all 47 member states meaning NHS midwives and doctors could be prevented from revealing information about an unborn baby to parents.
The news has sparked anger, with Justine Roberts, founder of mumsnet, believing that a blanket ban on gender identification would disappoint expectant couples. She says parents need to know the sex of their unborn child on practical grounds so they can plan ahead.
'I can understand that there may be problems in some parts of the world with sex selection but it seems ridiculous to apply the thinking to countries where this has not been a problem,' says Mrs Roberts.
'I think pregnant women would feel pretty angry and disappointed to be told they can't be told the gender of their unborn child.'
Dr Gillian Lockwood, a former vice-chair of the Royal College of Obstetricians and Gynaecologists ethics committee agrees that the directive would be of little benefit in Britain. Most couples learn the sex of their baby around 20 weeks, by which stage an abortion is only permitted on medical grounds.
The recommendation will be discussed by the full assembly of 318 MPs from 3rd October to 7th October. A spokesman for the Department of Health would not comment on the resolution until it was passed but says the main purpose of scans is to identify abnormalities, not the gender of a foetus.
Do you agree with the proposed plans to ban gender identification? Or should parents continue to have the option of knowing the sex of their unborn baby? Let Marie Claire know your thoughts by posting a comment below.
Celebrity news, beauty, fashion advice, and fascinating features, delivered straight to your inbox!