One million UK workers experience workplace violence
Bullying and violence in the workplace are more common than thought, according to a new study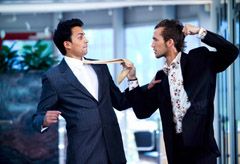 (Image credit: REX)
Bullying and violence in the workplace are more common than thought, according to a new study
Research suggests one million Britons have experienced physical aggression in the workplace over the past two years, with millions more subjected to bullying and humiliation.
According to a study by Cardiff and Plymouth universities, violence at work is far more common than thought and conventional employment policies are failing to deal with ill treatment.
Out of a cross-section of 4,000 participants representing British workers, almost one in 20 had suffered some form of violence in the workplace, and out of the one million workers subject to physical abuse, 3.8 per cent have been injured as a result.
'Sadly our study shows that violence, ill-treatment and unreasonable behaviour are all too common in Britain's workplaces,' says author of the study, Prof Ralph Fevre of Cardiff University.
Of those reporting physical aggression, 13 per cent say assault is a daily experience. The study also found that a staggering 72 per cent of attackers came from outside the workplace in the form of clients, customers and members of the public.
Workers most at risk from aggression were those employed in health and social work, education and public administration and defence. Those in the public sector are more likely to suffer at the hands of colleagues.
'There is no excuse for bullying and violence at work,' says Prof Fevre. 'As well as causing physical harm it can traumatise staff and leave them unable to work.'
'Employers should make sure that workers feel able to report threats and that problems are dealt with in a way that stamps them out.'
Have you experienced bullying or aggression in the workplace? Let us know by posting a comment in the box below.
Celebrity news, beauty, fashion advice, and fascinating features, delivered straight to your inbox!