Marie Claire Hosts First Ever Live Election Debate With Female Politicians - And THIS Is What Happened
Marie Claire is the first women's mag to host a live Twitter election debate, inviting five of the most high-profile women in politics to take part. Here's how it went down…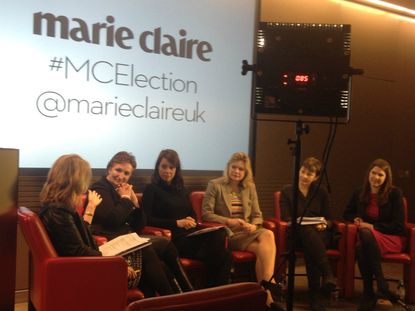 Marie Claire is the first women's mag to host a live Twitter election debate, inviting five of the most high-profile women in politics to take part. Here's how it went down…
This morning, Marie Claire HQ hosted a pioneering live Twitter Election Debate with five key members of the main political parties: Justine Greening from the Conservatives, Gloria de Piero from Labour, Jo Swinson from the Liberal Democrats, Caroline Lucas from the Green Party and Suzanne Evans from UKIP. Topics ranged from equal pay to female engagement in politics, rising house prices and domestic abuse. If it matters to you, you told us and we asked them what they plan to do about it.
The live debate reached 227k users on Twitter and within an hour, over 1,000 of you actively engaged with #MCElection, tweeting your questions, opinions and retweeting the highlights from the lively debate.
Considering a third of women still have no idea who to vote for on May 7th, so many of us won't vote at all, the aim was to work out why women aren't voting, why they should, and to clear up where each political party stands, helping us to decide who gets our valuable votes.
Marie Claire's editor-in-chief, Trish Halpin, hosted proceedings, putting questions to the panel on key issues – from the gender pay gap and domestic violence to spiraling housing prices and the cost of living crisis. While the politicians were all keen to hone in on their parties' policies, there was an encouraging sense of agreement on the issues affecting women. With less of the tit-for-tat associated with Prime Minister's Questions, and more of a collaborative - dare we say it, even sisterly - approach, this was about results rather than mud slinging.
Highlights included a stand off between De Piero and Evans on feminism, collaborative promises on tackling domestic violence and insights into how each of these powerful women started out in politics (and why they want you to get involved too).
The politicians themselves were pleased with proceedings, with Green MP Caroline Lucas tweeting that she wished Prime Minister's Questions could be as good! Elsewhere, Jo Swinson of the Lib Dems thanked us for such a lively debate, encouraging young women to get their voices heard.
Now WATCH the #MCElection debate video here
http://storify.com/marieclaireuk/mcelection
Have you registered to vote yet? What are you waiting for? It will only take two minutes of your time. Get signed up here: gov.uk/register-to-vote
Celebrity news, beauty, fashion advice, and fascinating features, delivered straight to your inbox!