M5 crash: Girl in coma unaware she's an orphan
Teenager Emma Barton, who was injured in the Somerset motorway pile-up on Friday night, is thought to be unaware that she has lost her father and sister as she lies in a coma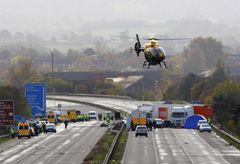 (Image credit: REX)
Teenager Emma Barton, who was injured in the Somerset motorway pile-up on Friday night, is thought to be unaware that she has lost her father and sister as she lies in a coma
Emma Barton is one of the 51 people injured in Friday night's pile-up on the M5, which claimed seven lives. The 19 year old remains in a medically-induced coma after the collision near Taunton in Somerset.
She is thought to be unaware that her 23 year-old sister Maggie and 67 year-old father Michael died in the crash leaving her an orphan after her mother passed away a few years ago.
The investigation in to the mass collison near junction 25 is still ongoing but Avon and Somerset Police believe poor visability was caused by a nearby fireworks display.
More than 30 cars and six articulated lorries collided causing a huge fireball to erupt, engulfing the vehicles and trapping passengers who burned to death.
'Seven people are confirmed to have died as a result of this tragic incident and we do believe there could be more deaths,' says assistant chief constable Anthony Bangham.
Michael Barton and his young daughters were thought to be heading home from a funeral when they were caught up in the accident. An unnamed woman speaking from the family home in Windsor expressed her devastation at the tragic news: 'It's just too soon for me to talk about it. We are just devastated. I grew up with them and have known them all my life.'
Emma's fiance Chris Burbull is maintaining a bedside vigil. The couple are thought to have met as teenagers and have been together for about five years.
Detectives believe the collision, the worst on a British road since 1991, may have been caused by smoke from a fireworks dispay at nearby Taunton Rugby Club, which obscured visability and distracted drivers.
Celebrity news, beauty, fashion advice, and fascinating features, delivered straight to your inbox!