Moment Dowlers thought Milly was alive
The mother of murdered schoolgirl Milly Dowler reveals the moment the hacking of her daughter's phone led her to believe she was alive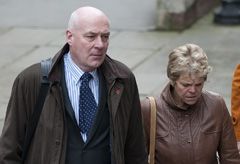 (Image credit: REX)
The mother of murdered schoolgirl Milly Dowler reveals the moment the hacking of her daughter's phone led her to believe she was alive
As the Leveson Inquiry continues, Bob and Sally Dowler describe the moment they managed to access their 13 year-old daughter's voicemail, giving them false hope that she was alive.
Yesterday, Sally Dowler gave evidence to the inquiry looking into the phone hacking scandal explaining how she thought her murdered daughter had listened to her voicemails.
'I rang her phone and it clicked through to voicemail and I just jumped and said: 'She's picked up her voicemails Bob, she's alive.' When we heard about the hacking that was the first thing I thought,' she says.
'I told my friends, "she's picked up her voicemail, she's picked up her voicemail."'
The Leveson Inquiry was set up by the Prime Minister, David Cameron, in July after it emerged that the News of the World had commissioned private detective Glenn Mulcaire to hack Milly's phone after her disappearance in 2002.
Bob Dowler told the inquiry on Monday: 'The gravity of what happened had to be investigated.
'I think that given that we learned about those hacking revelations just before the trial for the murderof our daughter, it was extremely important that we understood exactly what went on.'
Mr and Mrs Dowler described the deleting of their daughter's message's from her voicemail as 'despicable'. Milly vanished as she walked home in Walton-on-Thames, Surrey, in March 2002.
Surrey police will be required to release documentation, which could implicate officers in the selling of information to journalists about the murder case.
Hugh Grant appeared in front of the inquiry to discuss his experiences after there were accusations that his phone was hacked. Other names to appear this week include comedian Steve Coogan, Gerry McCann, Sienna Miller and JK Rowling.
Celebrity news, beauty, fashion advice, and fascinating features, delivered straight to your inbox!