International Women's Day
Today marks the 101st celebration of International Women's Day, but the plight of women around the world is far from over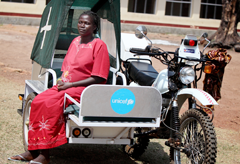 (Image credit: International Women's Day)
Today marks the 101st celebration of International Women's Day, but the plight of women around the world is far from over
While International Women's Day celebrates the vital role women play in enhancing economic security for their families, communities and countries, it also recognises the significant barriers that still exist.
Unicef believe that investing in women, mothers and girls provides hope for a future free of poverty, but their annual State of the World's Children Report indicates there is still a long way to go.
'While women's role in development is central, they also have to struggle against many obstacles including discrimination, violence and exclusion,' says Unicef's executive director David Bull.
This year has seen Saudi women win the right to drive, and Indian women ranked 30th in the league table of coporate world board members, but 82 per cent of women in Afghanistan are illiterate and only half as many girls as boys attend secondary school.
In Nigeria, 36 per cent of girls are married off before they are 15 to much older men, and in Timor-Leste 81 per cent of men believe it is justified to beat their wife for arguing or refusing sexual relations.
More shockingly, 86 per cent of women believe receiving a beating in these instances is justified.
South Sudan has both the highest infant mortality and highest maternal mortality rates in the world with only 10 midwives in the country but, Unicef has implimented a motorbike ambulance scheme which now provides transport for mothers facing labour complications.
In Malawi, this scheme halved the number of women dying in childbirth within four years.
However, Unicef insist further work needs to be done to educate communities and discuss the importance of investing in women and girls.
'The contribution women can make to their communities as mothers, care givers, income earners, role models, leaders and professionals is essential to the future prosperity, stability and growth of a world fit for children,' says Mr Bull.
Celebrity news, beauty, fashion advice, and fascinating features, delivered straight to your inbox!