Illustrated: 100 Years Of Beautiful Royal Wedding Dresses
The dress is always the biggest of big deals at any wedding, right? But at a royal wedding…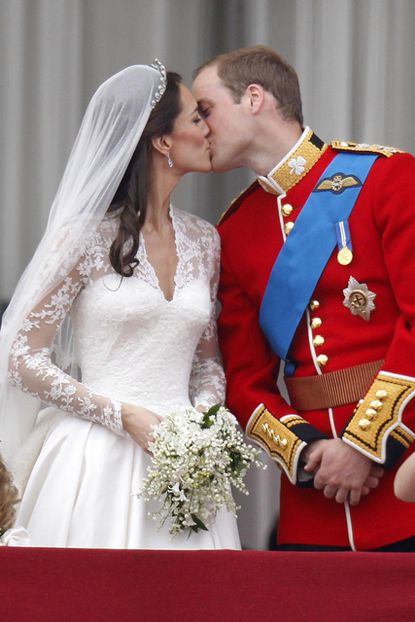 (Image credit: REX)
The dress is always the biggest of big deals at any wedding, right? But at a royal wedding…
The dress is always the biggest of big deals at any wedding, right? But at a royal wedding… A century's worth of the most elegant, exquisite and often extravagant royal wedding dresses have been charted in a fab new infographic, created by Zalando.
From Grace Kelly to Princess Diana, Kate Middleton to Queen Elizabeth II, 34 now-iconic royal gowns have been illustrated on the timeline, showing the evolution of bridal fashion trends in the process.
Just pick an Elizabeth (any Elizabeth) and the clever timeline opens up to give all the details on both the occasion itself and the construction of the dress.
First up is The Queen Mother, Lady Elizabeth Bowes-Lyon's gown from March 1923 - a fuss-free, corset-free Madame Handley Seymour dress that was bang on trend at the time - the flappers would have gone wild for it.
Moving through the decades, you see how influential a royal wedding dress can be on the overall silhouette of the time - the award for top train goes to Princess Diana's super-80s frock which, at a whopping 7.62m, still holds the record for the longest in royal history. Back then we were taking a 'more is more' attitude to fashion again, but over time wedding dresses have become a little more streamlined.
Here's 5 of our favourites from the graphic. See the full timeline, here.
The Queen Mother, Lady Elizabeth Bowes-Lyon, 1923 Fun fact: 'This beautiful 1920s design followed classic trends of the era, including a dropped waist and straight silhouette.'
Queen Elizabeth II, 1947 Fun fact: 'Just like every other post-war bride in Britain, Elizabeth had to use clothing ration coupons to pay for her dress. Hundreds of brides-to-be up and down the country donated their ration tokens to her but it was illegal for her to accept them.'
Grace Kelly, 1956 Fun fact: Grace had ''something blue' bows hidden on each petticoat layer.'
Lady Diana Spencer, 1981 Fun fact: '10,000 tiny pearls' embellished Princess Diana's dress.
Catherine 'Kate' Middleton, 2011 Fun fact: Kate's dress was a 'tribute to the UK, Kate's dress featured handmade lace & the UK's floral emblems: the rose, thistle, daffodil and shamrock.'
Celebrity news, beauty, fashion advice, and fascinating features, delivered straight to your inbox!