Your chance to be mentored by fashion executive, Sarah Walter
You could be mentored by fashion executive and director of fashion communications at River Island, Sarah Walter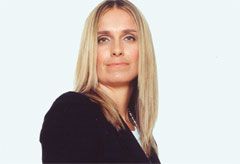 You could be mentored by fashion executive and director of fashion communications at River Island, Sarah Walter
Seventeen of the most influential women in Britain have joined forces with Marie Claire to become part of Inspire & Mentor with Marie Claire, our brand new campaign.
The campaign aims to help women scale new heights in industry, and from fashion to film, science to media, we have experts on them all.
By pairing short listed applicants up with the mentors we believe will help them the most, we hope to help women fulfil their potential, get that dream job, or launch that business they've always hoped for.
CLICK HERE FOR THE FULL DETAILS
Fashion executive and director of fashion communications at River Island, Sarah Walter is just one of the inspirational woman you could be mentored by as part of the new campaign.
Sarah started her career fashion assistant at Vogue, working there for over four years before moving to Marie Claire.
But after her daughter was born unwell, she left publishing entirely and began looking for something more flexible.
'I had a work experience placement at Vogue when I was at St Martin's College and I started the same day as Anna Wintour!' Sarah tells us.
'I became a fashion assistant and then I was promoted to accessories editor. It was all quite shocking because I was only about 22.'
But with Anna progress was all about hard work. 'I really grafted, seriously. I worked very hard, very late and I didn't have a holiday for about three years,' she said.
'I then became fashion director at Marie Claire, but I left magazines for good when my second daughter was born with no left hip socket.'
'Resigning wasn't difficult because she was more important,' Sarah reveals.
And it was around that time that her career took a different turn.
'I'd been doing some work for New Look as a consultant, and then they offered me a full time job,' she says.
'I had this idea that everybody is entitled to good design, not just fashionistas and no matter what the price.'
And Sarah moved to River Island just two years ago.
'They really know their customer - and their stores are so slick. About 60% of the designers we use are graduates fresh out of fashion college,' she says of the store.
'They have a lot of women in senior positions, which is very appealing as it is quite a male dominated industry at the top end.
'Women do things in a different way and I think women understand how women work.'
And what advice would she offer others? 'My advice to anyone wanting to make it is not to worry about the things you have no control of,' she says.
'Lots of people waste a huge amount of time worrying about things they can't change.'
If you would like to me mentored by Sarah, click HERE to apply.
Celebrity news, beauty, fashion advice, and fascinating features, delivered straight to your inbox!