The New Feelgood Fashion Brand To Know
Whether you fall in love with the batik prints or the feelgood fact that the whole collection is made by amazing Malawi artisans, Mayamiko is our new label to watch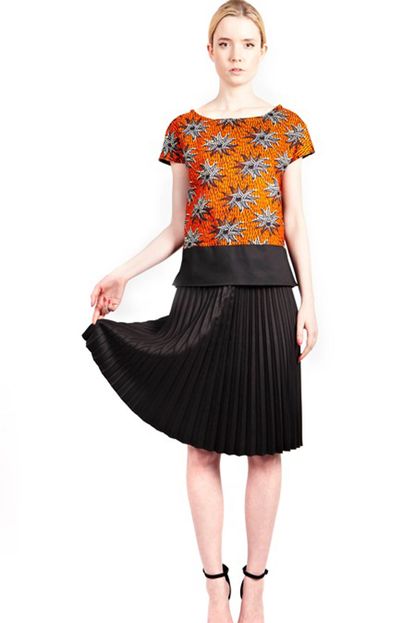 Whether you fall in love with the batik prints or the feelgood fact that the whole collection is made by amazing Malawi artisans, Mayamiko is our new label to watch
Here at Marie Claire HQ, we are big lovers of an African print - we have long been obsessed with Milan-based designer Stella Jean, whose incredible mash-ups of wax fabrics from her native Haiti, crafted into couture shapes, are beloved of street style stars and the FROW alike.
We also love a good t-shirt. So when we saw the chic, colourful Time For Tee collection featuring batik fabrics by an ethical fashion brand called Mayamiko, we were sold.
Mayamiko, designed by Paola Masperi, is made by local women in Malawi and supports the work of the Mayamiko Trust, a charity founded by Masperi in 2008. It provides training in sewing and tailoring to women affected by the HIV pandemic or who are carers of HIV orphans.
Blending cool contemporary silhouettes and traditional African techniques, the collection features a traditional printed African cotton called 'chitenje', as well as batik and dip-dye cotton, handproduced by local craftsmen. When you buy a piece, you'll be told exactly who crafted it, and the impact your purchase is making on their life.
The label's collections include Mayamiko Designed, ReBirth (upcycled pieces using 'end of roll' fabric remnants that would otherwise be wasted) and the new Time For Tee range.
"Time For Tee is a limited edition tee-shaped range, individually sourced, cut and sewn in our zero waste workshop in Malawi," Masperi told us (while en route to a fabric market in Malawi to source fabrics, naturally)."The prints are hand-picked, and we never make more than 15 pieces per print combination in this collection. The shape of the top is really flattering and it's perfect if you're experimenting with prints and colours in your wardrobe."
Vesperi, an Italian who is now based in Shoreditch, started out in marketing but after working on sustainable projects in Africa and falling in love with the continent, she realised that 'people don't want hand-outs, but opportunities."
With prices starting at a very purse-friendly £34, pieces are available from www.mayamiko.com
Celebrity news, beauty, fashion advice, and fascinating features, delivered straight to your inbox!