New York Fashion Week Spring Summer 2015: The Only Things That You Need To Know...
We look back over the week that was New York Fashion Week at some of the best moments on and off the catwalk...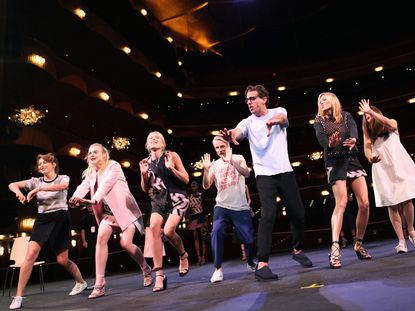 (Image credit: Opening Ceremony)
We look back over the week that was New York Fashion Week at some of the best moments on and off the catwalk...
Ah, New York, New York. Always the first to kick off – what a weight on your stylish shoulders. Poor old NYFW has long been tarred with the slightly-boring-commercial-one brush, but this season Manhattan was bristling with hip happenings, spectacular show venues and new young labels. In a super duper week, here are the things that stick in the oh-so-fashionable mind.
1. Opening Ceremony – the one where a fashion show was actually a 'show'
Who wants a boring catwalk when you can have Karlie Kloss making her acting debut? Specially written one-act play by Jonah Hill, direction by Spike Jonze, clothes by New York's favourite hipster duo, Carol Lim and Umberto Leon of cult store (and clothes label) Opening Ceremony. What next? Will Alber have to write and perform an opera?
2. Tommy Hilfiger – the runway that was a music festival
Music lover Mr Hilfiger revisited his early years as a rock 'n' roll festival-lover with a literal representation of the Summer of Love. And we mean literal. There were live drummers on the runway. There was real grass strewn with real daisies leading up to the bandstand. There was Georgia May Jagger in a Sgt Pepper-tastic striped military cape and shorts. Oh, and Kendall Jenner in cut-offs. Rock out, man
3. The return of rave
Continuing the 'Trad runway show? how boring' theme, Gwen Stefani barnstormed back into fash-land after a 3 year hiatus (busy with surprise baby boy no 3 and all). There were dancing models, brushstroke-print sweatshirts and dancehall-worthy braided hair. Then Katie Hillier and Luella Bartley continued their Brit-over of Marc by Marc with a rave-inspired collection shown on a warehouse set. Models strutted through a giant loud speaker onto the catwalk. We're dusting off our whistles right now.
4. VB launched flats
I mean, we never thought we'd see the day. Posh's toe cleavage and stiletto strut is as familiar to us as, well, our own face in a selfie. But kids, you heard it here first – VB says it's all about flats. So it really must be. The rose-printed pointy slip-ons will top lust lists everywhere
5. Rodarte clothes got even fabber
The embroidery-strewn mermaid dresses, the eyebrow rings, the skinny, skinny trousers, the boots laced to the knee, the Patti Smith hair…we will be wearing it all. And possibly all at once. Kate and Laura Mulleavy – we salute you
6. Ralph Lauren went 4-D
For the Polo show (about to open a monster new Fifth Ave flagship), giant holographic images of models wandering against a backdrop of different locations around Manhattan were beamed onto a 60ft tall water screen towering above Central Park. What with a string quartet playing and a giant 4-D avatar of the man himself shimmering over the water as he took his bow, it was a bona fide tech-meets-fashion blockbuster
7. New York had some new labels
Maison Kitsune, Adam Lippes, Rosie Assoulin, Wes Gordon (above) – memorise these names.
London – are you ready for the edgy-off?
Celebrity news, beauty, fashion advice, and fascinating features, delivered straight to your inbox!