LATEST! Victoria Beckham to design for Beyonce?
It's rumoured the super-famous pair might be teaming up to discuss designs for Beyonce's winter tour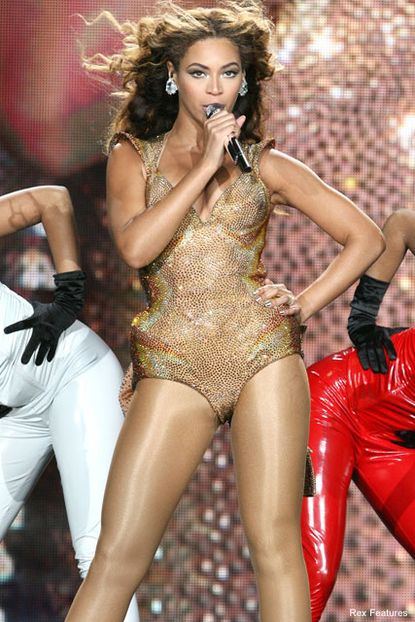 (Image credit: Rex Features)
It's rumoured the super-famous pair might be teaming up to discuss designs for Beyonce's winter tour
Sexy singer Beyonce is rumoured to have asked Victoria Beckham to help design outfits for her next tour.
Beyonce has already revealed she is a fan of the fashionista's fabulous designs.
SEE MORE STARS IN VICTORIA BECKHAM DRESSES!
And the music diva was so impressed with Victoria's latest collection - which was revealed to fashion editors in London yesterday - that she reportedly contacted Ms Beckham personally to discus a collaboration.
'Beyonce is a big fan of Victoria's work, and was given a couple of samples from the new collection - including some sunglasses which she has been wearing at any given opportunity,' one insider told the mirror.
'Victoria was flattered and has agreed, in principle, to suggest some designs.'
And it seems the brand new dresses could be making their stage debut this winter, when Bea is due to play a series of dates in the US.
'While Beyonce already has the sunnies and a few dresses, it is Victoria's more elegant full-length designs that she particularly loves as they are a real departure from her usual glitzy stage costumes,' the source continued.
'This collaboration could be the start of something big.'
And Beyonce is not the first famous face to become a fan of Vicky B's dresses.
The star has already developed a solid celebrity fan base, including Jennifer Lopez, Cameron Diaz and Gwyneth Paltrow.
And Hollwood superstar Demi Moore has even spoken out about how much she loves Mrs B's designs.
'I always feel so comfortable and Victoria's designs fit so well. They're just stylish through and through,' the star said.
But if you're planning to get your hands on a design from VB's latest collection, you could be in for a long wait.
'The clothes rarely reach the shop floor,' said a brand spokesman.
'Clients see the collection and put their names down in advance, so it's unusual to see the pieces merchandised in retail spaces - they're sold before they can get there.'
SEE VICTORIA'S LATEST DRESS COLLECTION HERE
VICTORIA BECKHAM STYLE HISTORY
Celebrity news, beauty, fashion advice, and fascinating features, delivered straight to your inbox!