Anya Hindmarch Talks Us Through Her Traffic-Stopping AW15 Collection
See all the pictures from Anya Hindmarch's AW15 London Fashion Week show...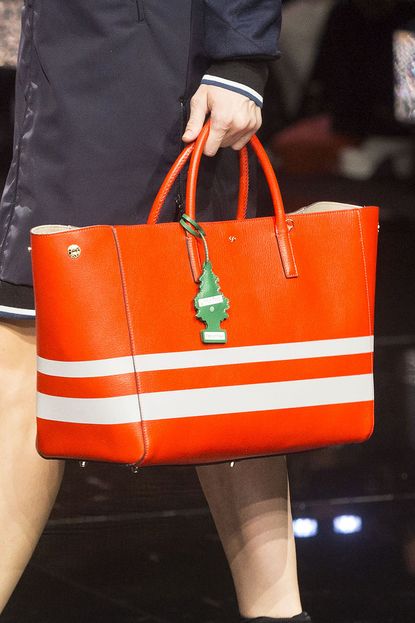 (Image credit: Ray Tang/REX)
See all the pictures from Anya Hindmarch's AW15 London Fashion Week show...
Anya Hindmarch brought London Fashion Week to a standstill this morning with a pun-packed collection inspired by one of the capital's most uninspiring landmarks – the M25.
The catwalk was turned into a giant, glossy highway as models emerged (in lanes, naturally) touting bags covered in road signs – think chevrons, speed cameras, 'no U-turn', the works. For her next trick, Anya hired a chorus of workmen to form a high-note-hitting, high-vis wall around her finale, creating a neon orange glow and leaving everyone with feel-good vibes for the last day of LFW.
Backstage, the designer talked us through her AW15 collection…
It's Amazing What You Can Dream-Up When You're Stuck In A Traffic Jam… 'Basically I spend way too much time on the M25!' Anya told us after the show. 'I had this idea to look at the beauty in the everyday, capturing that slightly trance-like feeling you get when you're in your car on the motorway and you've got a clear road in front of you with your favourite bit of music on. And this collection is about how you feel in that moment, as well as all of the beautiful imagery of that signage going on around you. '
You Will Soon Be Able To Buy The Most Luxe Eddie Stobart Charm Ever… 'There's a whole raft of service-station references – we've got sticker patches and charms for everything from Little Chef and Happy Eater to Eddie Stobart. I love the car air freshener charm [fashion fresh, we're calling that], but also the big tassel traffic cones and the bollards. There are so many fun things to look at – we've even played with reflective materials for the first time.' See more of the collection pictures in the gallery above.
Anya's No Longer Just A Bag Lady… 'There was customer demand for a wider range of products from us, so it just made perfect sense to extend some of those graphic treatments that we do into knitwear, furs and coats. We're not quite calling it a ready-to-wear line, it's more of an extension of the accessories.'
High-Vis Jackets And Hard Hats Are Officially In… 'I'm obsessed by male Welsh voice choirs, so was thrilled that we got the London Gay Men's Chorus to perform. There's something quite patriotic and strong about all those men singing together – they were divine.'
https://instagram.com/p/zez74kxeEq/
Celebrity news, beauty, fashion advice, and fascinating features, delivered straight to your inbox!