Children granted rights to father
For the first time children have won the right to build equal relationships with both parents following a divorce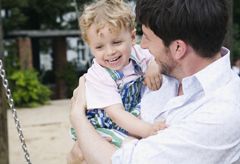 (Image credit: REX)
For the first time children have won the right to build equal relationships with both parents following a divorce
Currently, the majority of family courts decide to leave children with their mothers in divorce cases, but ministers intend to rewrite laws to ensure that fathers get equal access after a marriage breakdown.
A ministerial working group will be announced on Monday to decide how the Children's Act 1989 should be amended after campaigners have long complained that fathers are often excluded without legal rights in place.
According to the Office of National Statistics (ONS), a third of childrenlive without their fathers, and ministers are particulalry concerned about boys growing up without a strong, male influence.
'The state cannot create happy families, or broker amicable break-ups,' says education minister, Tim Loughton. 'But if children are having decent, loving parents pushed out of their lives, we owe it to them to change the system that lets this happen.'
But ministers are bracing themselves for a backlash from single mothers concerned about the possibility of aggressive fathers intervening in the lives of their children.
'In all this, the most important thing remains the principle that the child's welfare is the paramount consideration and this must not be diluted,' says Mr Loughton.
Plans are also underway to announce a £10million fund to encourage more parents to use mediation, suggesting the courts are rarely the best place for resolving private disputes about the care of children.
Do you agree that children should have equal rights to both their parents? Perhaps you think these changes will bring more disagreement and upheaval to a child's life? Let Marie Claire know your thoughts by posting a comment in the box below.
Celebrity news, beauty, fashion advice, and fascinating features, delivered straight to your inbox!