Childcare forces parents into debt
Almost 25 per cent of parents say the cost of childcare in the UK is putting a strain on their finances and causing many to get into debt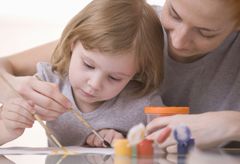 (Image credit: REX Features)
Almost 25 per cent of parents say the cost of childcare in the UK is putting a strain on their finances and causing many to get into debt
A survey by the Daycare Trust and Save the Children has revealed that the cost of childcare has pushed nearly a quarter of UK parents into debt.
The survey of 4,359 parents found 58 per cent had cut spending on essentials like heating and other household bills. Nearly 66 per cent say they can't afford not to work but struggle to pay for childcare, while almost half say the cost of childcare is on a par with their mortgage or rent.
'It is unacceptable that parents are being forced into debt in order to pay for childcare,' says Kate Groucutt, policy and research director at the Daycare Trust. 'Our research shows that childcare costs have risen every year for the last 10 years.'
The Daycare Trust found that 25 hours of nursery care a week in England for a child under the age of two costs an average of £5,000 a year. In Wales the cost averages at £4,700 and Scottish parents pay around £5,178 each year.
'People are being forced into debt, they're having to pay increased amounts of money for childcare at the same time and they're really, really struggling,' says Justin Forsyth, chief executive of Save the Children.
'It's much better not just for the economy, but for children themselves, that their parents are working, but they're not able to work unless they get proper support.'
Celebrity news, beauty, fashion advice, and fascinating features, delivered straight to your inbox!