You're hired! Stella English wins The Apprentice
The 31-year-old beat rival Chris Bates to land Lord Sugar's lucrative, six-figure job contract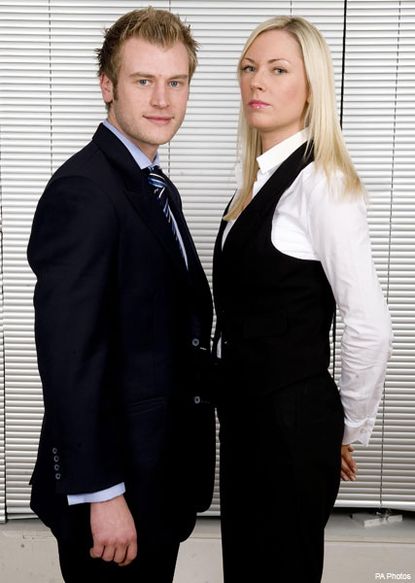 (Image credit: PA Photos)
The 31-year-old beat rival Chris Bates to land Lord Sugar's lucrative, six-figure job contract
After a gruelling twelve weeks on the show, down-to-earth candidate Stella English was crowned winner of the Apprentice last night, beating rival Chris Bates to land a lucrative job contract at Lord Alan Sugar's firm.
After fighting it out in the boardroom week after week, emotional Stella fought back the tears, as smiling Lord Sugar told her: 'You're hired.'
'To think that little Stella could be the winner of The Apprentice is unbelievable,' she said of her new role.
'I'm so excited about the future - it's all been worth it, all that blood, sweat and tears has been worth it.'
After proving herself week after week, the ex-banker from London secured her win during a stressful final task, which saw previous contestants rejoin the show to help the remaining two candidates.
The final two faced a tough challenge, after being given three days to design and create a new spirit-based drink, plan a marketing campaign, and present to a room full of inustry professionals.
The pair both put on an inspiring performance, but Stella's Urbon brand of Bourbon beat Chris's Prism rum and pomegranate drink to finally earn her the job.
'What I've seen over the past weeks Stella is that clearly you are a great organiser of people. You do know how to handle a team,' Lord Sugar told her in the boardroom.
'Well liked and determined to get on with whatever you're asked to do, I've also taken note of from where you have come; the fact that at an early age you never had any qualifications and then went out of your way to train yourself.
'That shows me a lot of determination.'
It's thought Stella will now take up a position as product manager for Lord Sugar's firm Viglen, based in St Albans, Hertfordshire.
Do you think Stella was the right person to take home the Apprentice title? Or should Chris have won? Let us know in the comments box below.
Celebrity news, beauty, fashion advice, and fascinating features, delivered straight to your inbox!