X Factor's Katie Waissel survives for the second time, as Belle Amie are axed
The kooky singer was in floods of tears as she clung on to her place in the competition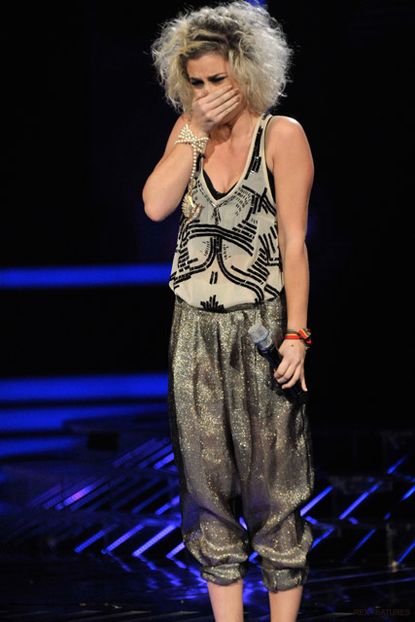 (Image credit: Rex Features)
The kooky singer was in floods of tears as she clung on to her place in the competition
Kooky singer Katie Waissel clung on to her place in the X Factor last night, as Simon Cowell's girl group Belle Amie finally got the axe.
SEE ALL THE LATEST X FACTOR PICTURES HERE!
Following death threats claims she 'couldn't go on', last week was a hard week for Katie Waissel. So all eyes were on Cheryl's controversial protégée when she took to the stage on Saturday.
Unfortunately, her spookily styled rendition of Bewitched failed to set the world alight, and the singer found herself in the bottom two during the results show on Sunday,
And despite many believing it was time for novelty act Wagner to go, the outlandish singer sailed through to the next round, leaving girl group Belle Amie to fight Miss Waissel for a place in the show. Even after the two acts had battled it out on stage – Katie singing Etta James' Trust In Me, and Belle Amie choosing Kelly Clarkson's Breakaway – the judges failed to decide who to put through, and Dermot O'Leary was forced to resort to the public vote to determine who was going home.
Unluckily for Belle Amie, they got the fewest votes, and Katie shakily scraped through to next week's show.
But through their tears they told Dermot this definitely wasn't the end of the road for them.
'We are not giving up, this is not the end of Belle Amie. We have only been together for a couple of months but it has been amazing,' they said.
And Simon, who now has just one act – 1 Direction – left in the competition, praised the girls for their hard work.'They have been a pleasure to work with,' he told the audience. 'I don't think it's the end for this group, they're survivors.'
We want your thoughts on last night's eviction. Were Belle Amie the right group to go? Or should Wagner have been given the boot? Let us know your thoughts in the comments box below.
SEE ALL THE LATEST X FACTOR PICTURES HERE!
X FACTOR TWITPICS: ALL THE BEHIND THE SCENES ACTION
Celebrity news, beauty, fashion advice, and fascinating features, delivered straight to your inbox!