Twilight Breaking Dawn Part 2 knocks Skyfall off box office top spot
Twilight Breaking Dawn Part 2 has proved so popular with cinema goers it's managed to occupy the top slot at the box office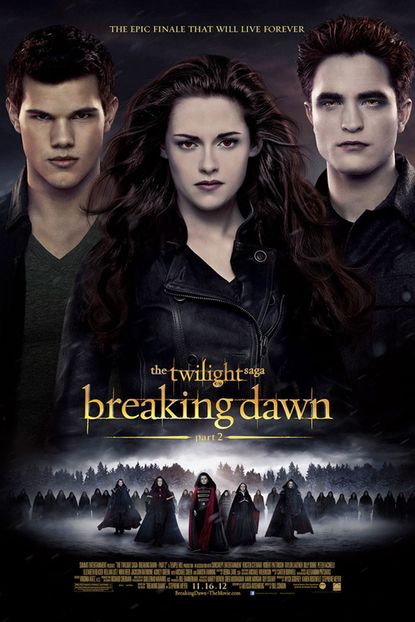 (Image credit: Summit Entertainment)
Twilight Breaking Dawn Part 2 has proved so popular with cinema goers it's managed to occupy the top slot at the box office
Twilight Breaking Dawn Part 2 had incredible expectations and it appears the final film - which stars Kristen Stewart and Robert Pattinson - has certainly lived up to them. New figures show it has already made £15.8 million, stealing the box office top spot from the latest Bond film, Skyfall.
TWILIGHT BREAKING DAWN PART 2 REVIEW
Even so, Twilight fell a little shy of owning the biggest opening weekend of the year. Skyfall still takes the crown for that one, with the film, starring Daniel Craig taking £20 million in ticket sales, as well as another £5.5 million after that.
But the Breaking Dawn Part 2 masterminds can rest easy though, as the opening ticket sales still put the Avengers' £15 million and The Dark Knight Rises' £14 million in the shadows.
And Breaking Dawn Part 2's domination of the box offices makes the final film the biggest, and most financially successful of the entire franchise.
In comparison, Breaking Dawn Part 1 and Eclipse took £14 million each while New Moon raked in £12 million and the very first film, Twilight earned a not-as-impressive £2.5 million.
Twilight has definitely gone out on a high!
Watch our interview with Robert Pattinson at the Breaking Dawn Part 2 premiere
What do you think, have you seen Breaking Dawn Part 2 yet? What's your verdict on it? Let us know in the box below!
TAYLOR LAUNTER HINTS AT RENESMEE AND JACOB SPIN OFF KELLAN LUTZ SLAMS ROBERT PATTINSON FOR WANTING NEW TWILIGHT MOVIE THE BEST EVER TWILIGHT QUOTES
Celebrity news, beauty, fashion advice, and fascinating features, delivered straight to your inbox!