Storm Lee and Diva Fever booted off the X Factor
Louis' aging rocker and Simon's camp duo both got the boot during the live show last night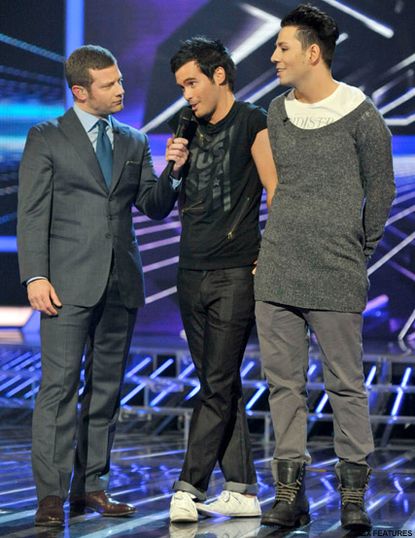 (Image credit: Rex Features)
Louis' aging rocker and Simon's camp duo both got the boot during the live show last night
Red-haired rocker Storm Lee and camp duo Diva Fever were booted off the X Factor last night, after both failed to make the grade during the public vote.
SEE ALL THE LATEST X FACTOR PICTURES HERE!
Distraught girl group Belle Amie were in the bottom three acts, but narrowly avoided the axe after being saved by judges on their final performance – a shaky rendition of Black Eyed Pea Fergie's Big Girls Don't Cry.
Unfortunately it wasn't such a happy tale for dancing divas Craig Saggers and Josef Al-Smadi, who failed to impress with their version of Gloria Gaynor's I Will Survive.
'We have had the time of our life. It's been mad being on the X Factor,' the disappointed pair told Dermot of their exit from the show.
But the pair made a dig at mentor Simon for his choice of song, blaming the judge for their swift exit from the competition.
'We think we can really sing.With better songs we could have done a lot better,' they said.
And in a rare move, show boss Simon – who lost his second group in as many weeks during the live shows - apologised to Diva Fever, admitting it was his fault they were voted out.
'I accept full responsibility. I let you down and I'm sorry,' he said of his Saturday song choice for the boys, Duck Sauce's Barbra Streisand. It seems after last week' furore, underdog Katie Waissell was back in favour with the public, sailing through to the next round.
Favourite Matt Cardle, flamboyant singer Wagner and shop worker Mary Byrne all made it through to the next round.
What are your thoughts on this weekend's evictions? Did the right two acts get the boot? Let us know your thoughts in the comments box below.
SEE ALL THE LATEST X FACTOR PICTURES HERE!
X FACTOR TWITPICS: BEHIND THE SCENES
Celebrity news, beauty, fashion advice, and fascinating features, delivered straight to your inbox!