Robert Pattinson on Breaking Dawn: 'I get carried away kissing Kristen'
The star has spoken out about filming the flicks steamiest scenes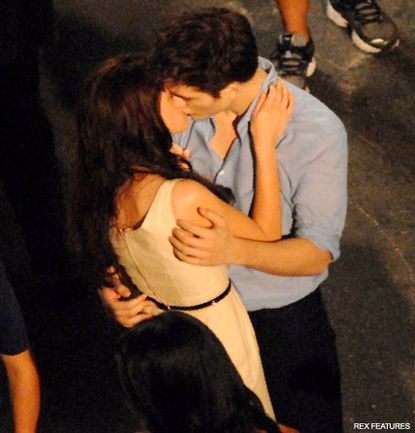 (Image credit: Rex Features)
The star has spoken out about filming the flicks steamiest scenes
Listen up, Twi-hards! Just last week excitement reached fever pitch when the first official Breaking Dawn pic was released - a tiny snapshot from one of the film's steamiest scenes.
Now Robert Pattinson has spoken out about filming the flick's hottest moments, revealing he often gets carried away kissing co-star and off-screen beau, Kristen Stewart.
SEE ALL THE LATEST BREAKING DAWN PICTURES HERE!
Rob and Kristen have been spotted out and about on Twilight duty several times in recent weeks, most recently filming the film's honeymoon sequence on an island off Rio de Janeiro.
So we can see how Rob might get a little caught up in the moment.
'When we start the kissing scenes I forget we're surrounded by a load of people,' R-Patz told Now.
'I actually end up getting really carried away. It's only when the kiss is finished that my mind registers there's actually a set full of people around, and I just walk away a bit embarrassed.'
But the star added that the films raunchier scenes were less than romantic to film.
'By the time you guys see the nude scenes it looks really erotic because it's been edited and you'll have the music,' he said.
'What you don't see is the eight cameramen, the director and about 50 people on set.
'The truth is you come out of your dressing room in a little robe and know that in a few minutes you're going to be taking it off in front of a load of people.'
Breaking Dawn hits screens in November next year, and we, for one, can't wait.
Will you be first in line to see Breaking Dawn? Let us know in the comments box below.
SEE ALL THE LATEST BREAKING DAWN PICTURES HERE!
ROBERT PATTINSON AND KRISTEN STEWART MOMENTS
Celebrity news, beauty, fashion advice, and fascinating features, delivered straight to your inbox!