Marie Claire is supported by its audience. When you purchase through links on our site, we may earn commission on some of the items you choose to buy.
The cheeky songstress has unveiled a new album - a painting by super cool artist Will Cotton
Cheeky songstress Katy Perry unveiled the cover of her new album, yesterday, a painting by super cool artist Will Cotton.
SEE MORE KATY PERRY PICS HERE!
The incredibly lifelike artists' impression sees the California Gurls singer lounging nude on a cloud of candy floss.
And she was oh-so proud to reveal the new cover during a live unveling yesterday.
'Oh my God,' she exclaimed after unveiling the new album. 'What will my mother say next? Wow. It's so gorgeous. I'm so excited. I'm nervous. I'm shaking a little bit…This is my first piece of real art, except my posters on the wall of Gwen Stefani when I was growing up.'
But there seems to be one thing missing. The title. 
'I have decided for this to be just the album cover – no print, no nothing, no 'Katy Perry'. Hopefully, they know it's me by the actual picture,' she explained.
'I wanted to go out with a bang for people to remember this. I think our collaboration will make it memorable,' she said of her work with the  famous artist.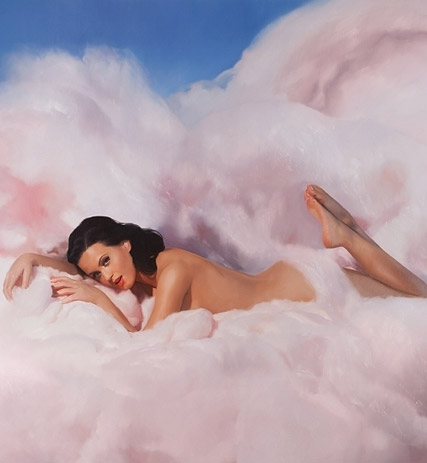 WATCH Katy unveiling her new album here…
Free live streaming by Ustream
RUSSELL AND KATY: RELATIONSHIP IN PICS