Nicole Kidman Responds To Critics Of Her Grace Of Monaco Film
Before debuting her widely panned film at the Cannes Film Festival, the actress publicly defended her role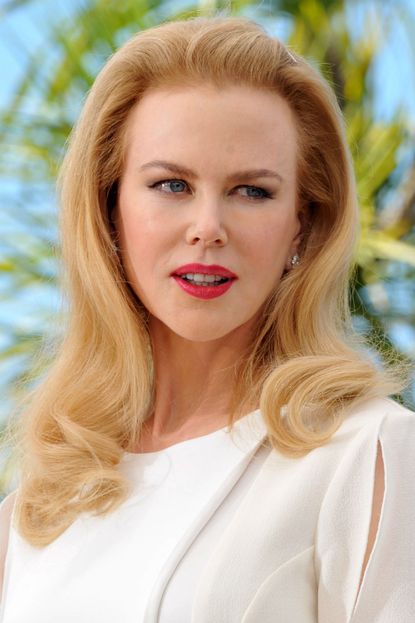 (Image credit: Rex)
Before debuting her widely panned film at the Cannes Film Festival, the actress publicly defended her role
Nicole Kidman hasn't had any easy go of it promoting her latest film, Grace of Monaco.
When the trailer for the film, which is a fictionalised version of the life of Grace Kelly, first debuted, the current royal family in Monaco was not pleased. They issued an official statement renouncing the film: 'The trailer appears to be a farce and confirms the totally fictional nature of this film.'
But despite their dismay, the show went on as Grace of Monaco opened the Cannes Film Festival 2014 on Wednesday evening. Before the screening, the film's star responded to her project's royal critics.
'I mean, obviously, I feel sad, because I think the film has no malice toward the family, particularly toward Grace or [Prince] Rainier,'she said. 'It's a fictionalization. You take dramatic license.'
The 46-year-old actress said she understood why Grace's children are hesitant about seeing their parents depicted on the big screen. 'I still have respect, and I want them to know the performance was done with love,' Kidman said, adding that if they ever did see the film, 'they would see affection for both their parents.'
Nicole also spoke about the controversial role with the BBC. When asked if she regrets it after hearing the royal family's response, she said: 'No, I would have still taken the part.' She added that she would not have amended her performance in any way.
But while the actress is confidently standing up to her royal critics, she's yet to respond to her numerous film critics. So far the film (which hits cinemas 6 June) has been widely panned. The reviews are in... and they are harsh.
A Guardian review said the film was 'like a 104-minute Chanel ad, only without the subtlety and depth.'
Another Guardian article gave this lovely imagery for the opening of Cannes: 'Short of having a score of terrified carthorses defecate on the red carpet, it's hard to imagine a more disastrous start.'
And the Telegraph review was equally rough. Their review ended with a description of the film's closing frame, 'an ominous intertitle, printed in solemn white-on-black. "Grace Kelly never acted again," it reads. As for this lot, we'll see.'
Ouch. Poor Nicole just really can't catch a break with this one...
Got a tablet? Take the new look Marie Claire wherever you go, download straight to your iPad & iPhone, Kindle (just search the store for 'marie claire magazine'), Nook or Google Nexus for only £2.99.
Celebrity news, beauty, fashion advice, and fascinating features, delivered straight to your inbox!
Ali Gray is an award-winning content director and digital strategist. Most recently she was the Director of Branded Content at Hearst, and helped to bridge the gap between the editorial and commercial worlds working across all Hearst brands, including ELLE, Cosmopolitan, Esquire and Harper's Bazaar. Prior to that she worked as an editor contributing to several brands such as The Telegraph, iVillage UK.