Nadine Coyle: Girls Aloud still argue, things still kick off
Cheryl Cole and the rest of Girls Aloud may have made up with Nadine Coyle but there's still tension at times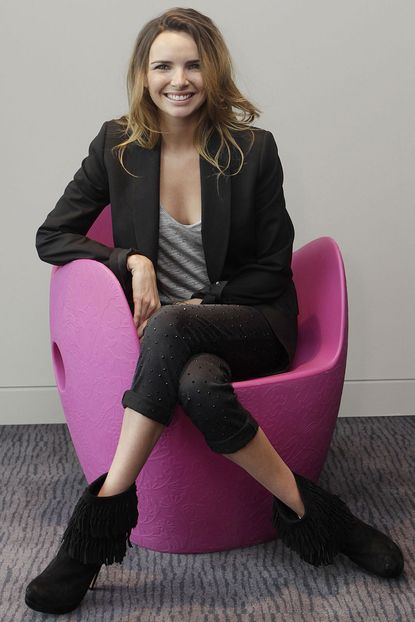 (Image credit: PA)
Cheryl Cole and the rest of Girls Aloud may have made up with Nadine Coyle but there's still tension at times
Nadine Coyle famously fell out with the rest of Girls Aloud, although thankfully they kissed and made up and have reunited for their 10th anniversary, but she's revealed they still argue.
Nadine told Gaydar radio: 'Sometimes it can all kick off. Then someone might back the other one up and be like "No, she's right because of this!" And then it all starts.'
And it's not just Cheryl Cole who isn't afraid to bite back with Nadine adding: 'Everybody has their own feisty version.'
LISTEN TO GIRLS ALOUD'S NEW SINGLE
Despite this revelation, Nadine was quick to play things down, and focused on the complexities of working so intensively with creative women:
'You start off with something simple and then the next minute you'll be delving into something that may draw a tear. It's just that closeness that you have and it's good to have that support.'
The singer also side-stepped further questions about the relationships between the girls and appeared chuffed to be back in the band.
She said: 'Everybody has [grown up]. We've been very fortunate. I just think it's very good that everyone is in a good frame of mind to come back and do all the stuff again.'
CHERYL COLE LEADS GIRLS ALOUD RADIO 1 TAKEOVER
And by the sound of the two new songs of their upcoming album, Ten, it's great to have them back.
Watch Girls Aloud arriving at Radio 1:
PHOTOS: GIRLS ALOUD THEN AND NOW
GIRLS ALOUD DESIGN CHARM BRACELETS
Celebrity news, beauty, fashion advice, and fascinating features, delivered straight to your inbox!