Lindsay Lohan caught 'injecting drugs' on camera
Things have gone from bad to worse for the star, after shocking pictures have emerged of her appearing to 'inject herself' drugs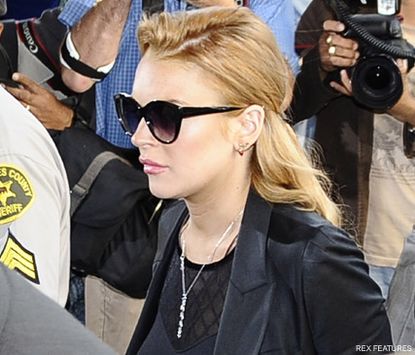 (Image credit: Rex Features)
Things have gone from bad to worse for the star, after shocking pictures have emerged of her appearing to 'inject herself' drugs
Just when we thought nothing could surprise us, things have taken another turn for the worse for Lindsay Lohan. The Mean Girls star was left facing a new low over the weekend, after shocking pictures emerged of her appearing to 'inject herself' with drugs.
The harrowing, grainy pictures – which could have been taken on a phone – show the sorry star wrapping something tightly around her wrist, before appearing to 'inject herself' with a substance using a syringe.
There are also pictures of what looks like the Li-Lo being injected with drugs into her lower back – in the collection of shots, which could date back as far as 2007 - as well of the star locked in a steamy kiss, with a tall blonde socialite, said to be Paris Hilton.
This comes as Lindsay was escorted back to jail following a failed drugs test last week – less than one month after finishing her initial sentence for DUI offences.
The star stepped back behind bars on Friday, but won an appeal to be granted bail shortly afterwards.
'An order has been signed by Judge Patricia Schnegg granting writ of habeas corpus,' court spokesman Allan Parachini said on Friday night.
'Bail has been set at $300,000.'
But it seems money was no object for Lindsay, with the whopping sum being posted just hours afterwards allowing her to walk free.
Just last week, the troubled actress took to Twitterto admit her actions and apologise to fans.
'Regrettably, I did in fact fail my most recent drug test and if I am asked, I am prepared to appear before judge Fox next week as a result,' Lindsay Tweeted in a statement.
'Substance abuse is a disease, which unfortunately doesn't go away over night. I am working hard to overcome it and am taking positive steps forward every day,' she added.
Following her relapse it's thought the star will increase her treatment. 'She will step up her treatment and do more than what she was previously ordered to do,' a source told US magazine People.
What are your thoughts on the latest in the Lindsay Lohan saga? Let us know in the comments box below.
Celebrity news, beauty, fashion advice, and fascinating features, delivered straight to your inbox!