LATEST! Tony Parker's 'other woman' denies affair claims
Erin Barry as rubbished reports she is to blame for Tony and Eva's shocking split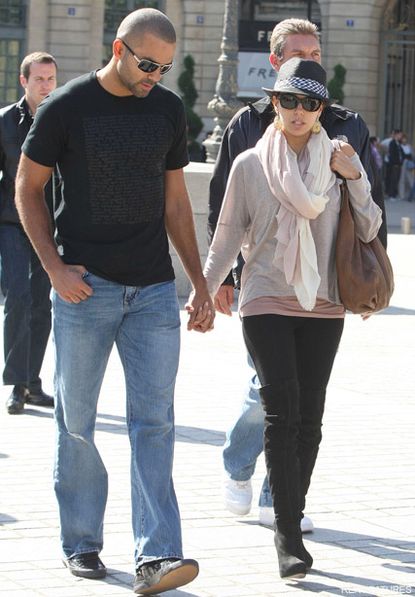 (Image credit: Rex Features)
Erin Barry as rubbished reports she is to blame for Tony and Eva's shocking split
Last month the showbiz world was rocked by the news Hollywood couple Tony Parker and Eva Longoria were set to divorce, amid rumours of affair between basketball player Tony and his teammates wife. Now the woman in question, Erin Barry, has rubbished the 'ludicrous' reports, addressing the claims in an open letter on her website.
Just days after Tony and Eva announced their split on Twitter - in a statement, which read: 'It is with great sadness that after 7 years together, Tony and I have decided to divorce. We love each other deeply and pray for each other's happiness,' - rumours had already begun to circle.
It was thought Eva initiated the split after finding 'hundreds of texts' from another woman – reportedly Erin Barry the wife of one of Tony's team-mates, Brent Barry, and a friend of the couple - on his phone.
But after weeks of speculation Erin – who is going through a divorce herself - has finally ruled herself out of the equation.
'I did not have an affair with Tony Parker, nor did I 'pursue' Tony Parker,' she wrote in the damning public letter.
'Unfortunately, because our divorces are occurring at the same time, great speculation has been cast on our friendship.
'My friendship with Tony Parker had nothing to do with the end of my marriage, which is painful enough without this added drama and to assume that we had an affair is naive, ridiculous, and completely misguided.'
Erin then goes on to claim she is far too busy to have conducted the elicit relationship, branding the claims 'ludicrous,' and 'an annoyance'.
'It has been brought to my attention that people who do not know me think that I have had an affair with Tony Parker,' she continued.
'I have received hundreds of emails and phone calls from supportive friends who do know me and know that what is being insinuated about me is a complete lie.
'I am so busy with my children and law school studies that to take even a few moments out of my day to address this ludicrous issue is an annoyance.
'I only take the time to explain myself because apparently my silence, as a result of my indifference, has been construed as an admission of guilt.'
So far Eva and Tony have remained tight lipped on the reasons for their split, but were spotted sharing lunch at a beachside restaurant in California, earlier this week.
Would you like to see the pair reunite? Let us know in the comments box below.
Celebrity news, beauty, fashion advice, and fascinating features, delivered straight to your inbox!