Kristin Davis slams Sex and the City prequel
Weeks after it was revealed Blake Lively could have landed the lead as a young Carrie, Kristin's spoken out against the idea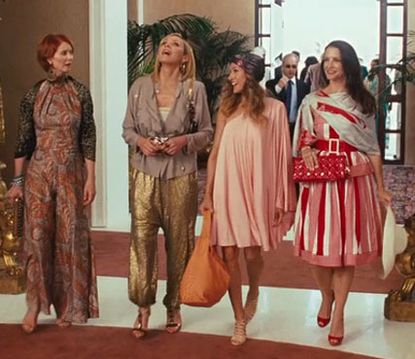 Weeks after it was revealed Blake Lively could have landed the lead as a young Carrie, Kristin's spoken out against the idea
Earlier this month, we heard whispers a Sex and the City Prequel could be on the way, with Blake Lively even tipped to take on the role of a young Carrie. But now SATC star Kristin Davis has slammed the idea, revealing she doesn't think there should be another film.
LOOK BACK AT THE SATC 2 PICS HERE!
Writer Candace Bushnall has already penned The Carrie Diaries, a novel about the character's high school years.
And it seems SATC writer Michael Patrick King is keen to introduce a new group of girls, and already has Ms Lively in mind for Carrie's part.
Earlier this month, Sarah Jessica Parker revealed she wasn't keen on the idea of a prequel about the girls' early lives, but wouldn't rule out returning for a third movie.
'I don't think we can pretend to go back. It's creating two histories,' the told the Los Angeles Times, adding 'I think there's one more story to tell. I know there is.'
Now Kristin Davis has joined the chorus, putting down the rumoured project.
'Not so into the prequel movie,' Kristin told E! of the idea.
'Because we're us and we've discussed our history in the show already so for all of our fervent fans who listen to what we say, why would we rewrite that?
'And then have like different people with our names? It's kind of freaky.'
Movie bosses are still said to be considering a third movie starring our four favourite girls, with SJP hinting another film could be in the pipeline.
What are your thoughts on a SATC prequel? Do you agree with Kristin? Let us know your thoughts in the comments box below.
LOOK BACK AT THE SATC 2 PICS HERE!
Celebrity news, beauty, fashion advice, and fascinating features, delivered straight to your inbox!