FIRST LOOK! Angelina Jolie and Johhny Depp in The Tourist
We've got our hands on the very first sneak peak of the film, shot in Venice with lovely Johnny Depp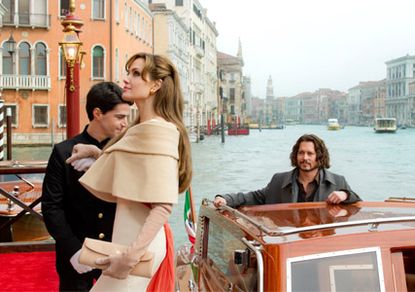 We've got our hands on the very first sneak peak of the film, shot in Venice with lovely Johnny Depp
He's spent the summer shooting at the most romantic destinations around Europe, and now the trailer for Angelina's Jolie's latest flick is finally here.
SEE ANGELINA'S STYLE HISTORY HERE!
Ange is back, sporting an English accent to play Elise in the action-packed new flick, which also stars Johnny Depp as American tourist Frank, who gets caught up in a mysterious series of events.
Cue drama, intrigue and some dramatic high-speed boat chases along the canal in Venice, as the two get up close and personal in the Italian city.
Angelina also manages to sport some seriously stylish getups as she dashes around the historic location during the action-packed new movie.
The Tourist hits screens in December.
Will Angelina have another hit with her latest flick? Let us know your thoughts in the comments box below.
MORE ANGELINA JOLIE PICS HERE!
BRAD AND ANGELINA: RELATIONSHIP IN PICS
Celebrity news, beauty, fashion advice, and fascinating features, delivered straight to your inbox!