FIRST LISTEN! Gamu Nhengu's charity Christmas single
The X Factor reject has recorded a song for a Scottish children's charity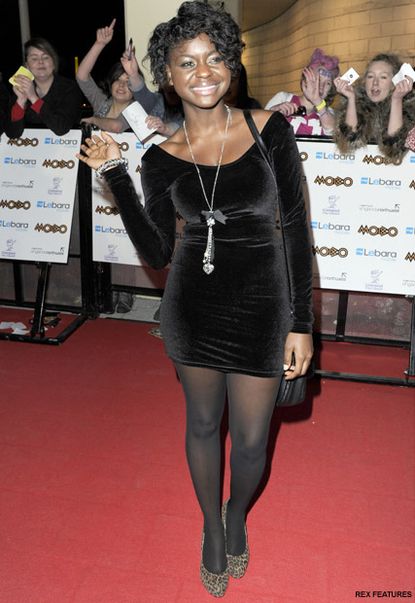 (Image credit: Rex Features)
The X Factor reject has recorded a song for a Scottish children's charity
Earlier this month, we heard whispers rejected X Factor contestant Gamu Nhengu had recorded a charity single, which could hit shelves within weeks and even battle the X Factor winner for Christmas number one.
Now the track has hit the airwaves, and we've got out hands on the very first sneak peek.
SEE ALL THE LATETST X FACTOR PICTURES HERE!
Earlier this year, judge Cheryl Cole caused controversy by axing Zimbabwean born Gamu - who has been battling officials over deportation and visa issues - before the X Factor live shows.
But now the singer is back, and could soon be steaming up the charts with her brand new single.
Gamu has teamed up with her ex-music teacher Dave Clifford for the festive track – entitled Where Will You Sleep This Christmas - recorded with the help of the Aberlour choir.
And it seems the star jumped at the chance to record the special song.
'From the minute I heard the song, I loved it,' told the Daily Record of her new Christmas single. 'This is the first time I have done anything like this, so I was really honoured when Mr Clifford asked me to record it.'
The charity produced the single on a shoestring, and were delighted to have a budding X Factor starlet in their midst.
'We have had a long association with Gamu, who has sung at our Christmas concert for the past three years,' a spokesperson for Aberlour revealed.
'A small record company in Glasgow has taken the song on as a charitable project to release it in a small way because we can't spend a lot of money on the single.'
And it seems the charity are thrilled with Gamu's efforts.
'Gamu has always had an amazing talent. Even when she did our Christmas concerts, she stunned the audience with the power and emotion in her voice,' the spokesperson added.
'We have always known she is a talented young person. The song is a good, strong one for Christmas.
'It is a festive song. The power and emotion of Gamu's voice shines through. We always knew she is a great talent.'
LISTEN to Gamu's single here…
Gamu's single hits shelves on December 13.
Will you be first in line to buy Where Will You Sleep This Christmas? Let us know in the comments box below.
SEE ALL THE LATEST X FACTOR PICTURES HERE!
BEHIND THE SCENES X FACTOR TWITPICS
Celebrity news, beauty, fashion advice, and fascinating features, delivered straight to your inbox!