Colin Firth to star in Amanda Knox film
The star has signed on the dotted line to play an investigative journalist covering the case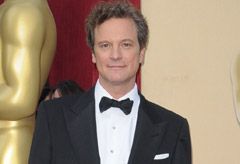 (Image credit: Rex Features)
The star has signed on the dotted line to play an investigative journalist covering the case
Single Man star Colin Firth has signed on the dotted line to play an investigative journalist in a new Hollywood movie about convicted murderer Amanda Knox.
Amanda Knox was jailed for 26 years in 2009, for the drug-fuelled sex murder of British student Meredith Kercher in Perugia, Italy.
The sentence was given alongside her Italian former boyfriend Raffaele Sollecito, 25, who was jailed for 25 years.
It's thought Oscar-nominated Firth could be penning a script for the film, which is reported to be in the 'very early stages'.
And Brit filmmaker Michael Winterbottom is set to take the director's chair.
'The idea would be that ultimately there isn't an answer, it's all a puzzle,' he told the Daily Telegraph.
'We are certainly not going to be saying, "This person is innocent or this person is guilty". But we will be asking, "Is this (a) system of fair justice?"'
Reports suggest the film is likely to focus on the case and the Italian journalists covering it, rather than it's main subject, Amanda Knox.
'There is unlikely to be a character playing Knox - I talked to Firth about the idea of playing a journalist or a writer,' Winterbottom added.
This follows news that Heroes star Hayden Panettiere will play convicted murderer Amanda Knox in a made for TV movie in the US next year.
Celebrity news, beauty, fashion advice, and fascinating features, delivered straight to your inbox!