Colin Firth and Natalie Portman clean up at the Oscars
The pair took home Best Actor and actress for their roles in The King's Speech and Black Swan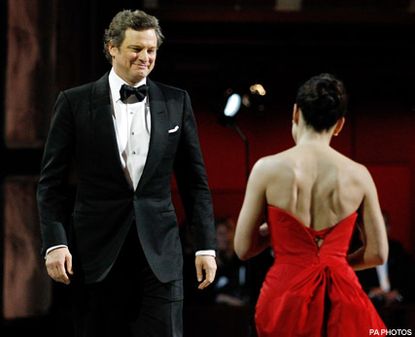 (Image credit: Rex Features)
The pair took home Best Actor and actress for their roles in The King's Speech and Black Swan
Colin Firth and Natalie Portman reigned supreme at the Oscars last night, taking home Best Actor and actress at the glittering 83rd Academy Awards.
SEE THE STARS AND STYLE FROM THE OSCARS RED CARPET HERE!
One of the night's big winners, Colin's historical hit The King's Speech swept the board at the show, taking home four awards, including Best Picture, Best Director and Best Original Screenplay.
Having missed out to Jeff Bridges at the prestigious ceremony last year, Colin Firth finally clinched an award, joking: 'I've a feeling my career's just peaked.'
The Brit Actor thanked 'all the people who have been routing for me back home,' as well as wife, 'Livia, for putting up with my fleeting delusions of royalty.'
Blooming Natalie Portman – who dressed her baby bump in a dazzling Rodarte gown – wiped tears from her eyes as she stepped on stage to receive her Black Swan Best Actress prize, thanking her parents and fiancé in a gushing speech.
'I want to thank my parents, first and foremost for giving me my life. And for the opportunity to work at such a young age,' she said, adding: 'My beautiful love Benjamin Millepied who choreographed the film and has now given me my most important role of my life.'
Melissa Leo pipped Amy Adams and 14-year-old star Hailee Steinfeld to the Best Supporting Actress award, while Christian Bale beat Geoffrey Rush and Mark Ruffalo to take home Best Supporting Actor for The Fighter.
Other big winners included Leonardo DiCaprio's hit Inception, which won a host of technical awards – including Visual Effects– and Facebook flick The Social Network, which won Best Editing, Adapted Screenplay and Original Score.
As the three-hour ceremony came to close, the stars were getting set to party into the night at one of Hollywood's host of glittering post-award bashes.
What are your thoughts on this year's Oscar winners? Did the right people take home the prizes? Let us know in the comments box below.
SEE THE STARS AND STYLE FROM THE OSCARS RED CARPET HERE!
Celebrity news, beauty, fashion advice, and fascinating features, delivered straight to your inbox!