Cindy Crawford halts 10-year-old daughter's modelling career
Kaia Gerber caused a sensation when she was unveiled as the face of Versace's Young Versace line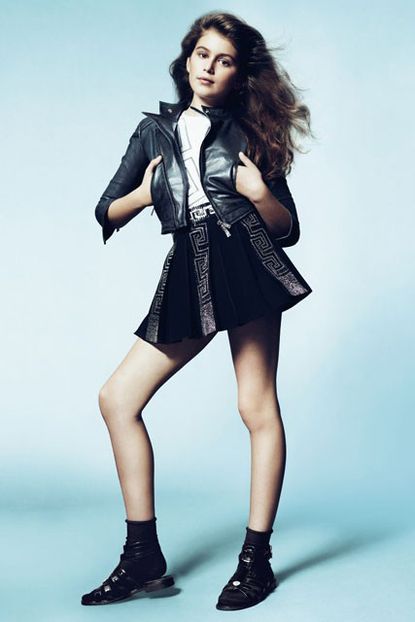 (Image credit: REX)
Kaia Gerber caused a sensation when she was unveiled as the face of Versace's Young Versace line
Her ten year-old daughter Kaia Gerber may have caused a splash when she was unveiled as the face of Versace's Young Versace line, but Cindy Crawford says she's too young to embark on a modelling career.
The model mum told Fashion Week Daily: 'At this point, she's too young to pursue a career. There aren't even a handful of jobs for a 10-year-old girl. But if she's 17 and wants to try it, of course, what can I say?'
About her daughter's future plans, Crawford added: '[Kaia] kind of jokingly said, "I might model first because you don't know how to do anything, but then I want to be a baby nurse."'
Earlier this year, designer Donatella Versace said of Gerber: 'Like her mother, Kaia has a very special gift. The camera really, really loves her.
'Having Cindy on-set for the shoot took me back to all the amazing Avedon shoots we worked on together. It was such a special treat watching Kaia walk in her mother's footsteps.'
Cindy, 46, initially supported her young daughter's modelling debut, saying: 'I'm so thrilled that Kaia was chosen to be part of the first Young Versace Campaign.
'I have so many fond memories of the times I spent with Gianni and Donatella. There is something so very special about the House of Versace. Being on-set with my daughter watching her in front of the camera was a fantastic experience. I am so proud of her.'
Cindy Crawford began a successful modelling career at the age of 17 but has said she has 'lost touch' with the catwalk, instead choosing to focus on her family and other projects away from fashion.
Do you think Cindy was right to halt her daughters career? Tell us your thoughts in the box below...
Celebrity news, beauty, fashion advice, and fascinating features, delivered straight to your inbox!