Carolina Herrera named designer of Bella's Breaking Dawn wedding gown
Summit have confirmed the eponymous designer has created Kristen Stewart's Twilight big day dress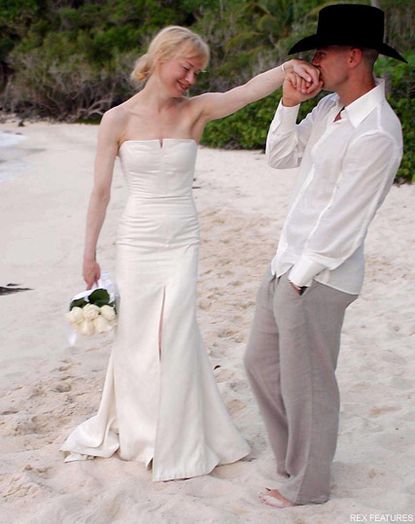 (Image credit: Rex Features)
Summit have confirmed the eponymous designer has created Kristen Stewart's Twilight big day dress
With the penultimate Twilight film fast approaching, we've been on the edge of our seats waiting for a sneak peek at Kristen Stewart's gorgeous Breaking Dawn wedding gown, or even the name it's creator.
And now we finally know. Cheeky Summit execs treated Twi-fans to a fast fact yesterday, confirming eponymous designer Carolina Herrara as the official in charge of Bella Swan's big day style.
SEE ALL THE BREAKING DAWN ON SET STILLS HERE!
Releasing the news to fans on Twitter, the studio teasingly wrote: 'On November 18, see Bella's Carolina Herrera-designed wedding dress in #BreakingDawnPart1!'
And although we're yet see a design, or even hear any details about Kristen's hotly tipped Breaking Dawn gown, Ms Herrera – a favorite of Bridget Jones starlet Renee Zellweger – has said Bella 'will make a beautiful bride'.
'It is always a great pleasure to design any wedding gown, but this one was particularly special,' the famous designer told Us Weekly.
'Kristen is a stunning girl and her character, Bella, will make a beautiful bride.'
Earlier this month we were treated to a tiny glimpse of Bella in her wedding day attire when the Breaking Dawn trailer debuted at the MTV Movie Awards.
The dramatic, two minute-long trailer shows the Cullen clan reunited again for an extra special event: Bella and Edward's wedding.
Shot from behind Bella's beautifully coiffed head (vintage diamond hair slide firmly in place) the tantalizing teaser shows the bride-to-be walking down the aisle, as Edward waits at the alter.
But it sadly stops short of giving us the very first look at Miss Swan's much talked about, Herrera-designed wedding dress.
Guess we'll just have to wait until November, then…
WATCH the FULL Breaking Dawn trailer here…
Are you looking forward to seeing Kristen Stewart's Breaking Dawn wedding gown? Is Carolina Herrera the right designer for the job? Let us know in the comment box below.
SEE ALL THE BREAKING DAWN ON SET STILLS HERE!
WATCH THE BREAKING DAWN TRAILER
Celebrity news, beauty, fashion advice, and fascinating features, delivered straight to your inbox!