Brad Pitt Says Angelina Jolie Is 'Moved' By Response To Her Mastectomy
Brad Pitt appeared on Good Morning America yesterday, where he openly discussed Angelina Jolie's decision to go public with the news of her operation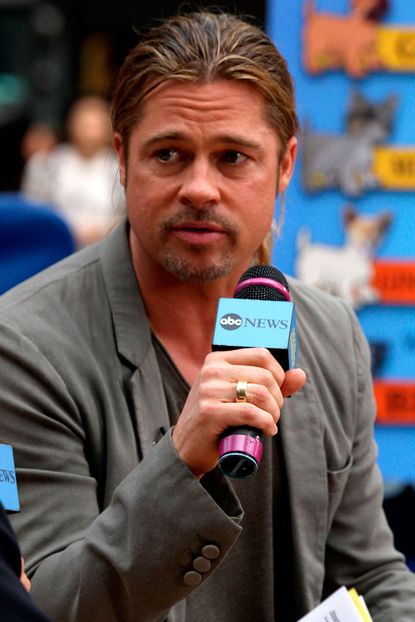 (Image credit: Rex)
Brad Pitt appeared on Good Morning America yesterday, where he openly discussed Angelina Jolie's decision to go public with the news of her operation
Brad Pitt has opened up about his admiration for Angelina Jolie in another revealing interview.
The actor appeared on Good Morning America yesterday to discuss his new movie, World War Z, when he was once again questioned about his wife-to-be, and how she's coping following her double mastectomy.
Brad told TV host George Stephanopoulos that it's been 'business as usual' in the Brangelina household and admitted that the pair have been overwhelmed with the public's response to Angelina's difficult news.
He said: 'She's doing great. When she wrote her piece, we had already come out the other end and we're feeling really good about it. We're really surprised and moved by how many people are dealing with the same issue, or wondering about the same issue.'
Angelina Jolie broke the news of her preventative double mastectomy in an article in the New York Times. The actress and mum-of-six explained that she made the decision to undergo the surgery after discovering she had an 87 per cent chance of developing breast cancer and a 50 per cent chance of contracting ovarian cancer.
Brad Pitt added yesterday: 'Her idea was that if someone could learn from her story, then she would love to share that. But it's just been a beautiful thing to watch and her focus now is that all people have access to the testing and know what they can do about it.
'And she has certainly shown if you do your research and make your decision, what's best for you, it doesn't have to be a scary thing.'
Angelina made her brave return to the red carpet following her operation at the world premiere of World War Z in London last month. She then attended the Paris and Berlin premieres before waving Brad off to continue his promotional duties alone.
BRAD PITT ON LIFE FOR ANGELINA POST-SURGERY
ANGELINA JOLIE & BRAD PITT'S WEDDING DETAILS REVEALED
ANGELINA JOLIE RETURNS TO THE RED CARPET
Got a tablet? You can now download Marie Claire magazine straight to your iPad, Kindle (just search the store for marie claire magazine'), Nook or Google Nexus.
Celebrity news, beauty, fashion advice, and fascinating features, delivered straight to your inbox!