6 Reasons Why We Love Marloes Horst
Marie Claire meets the model of the moment, Marloes Horst...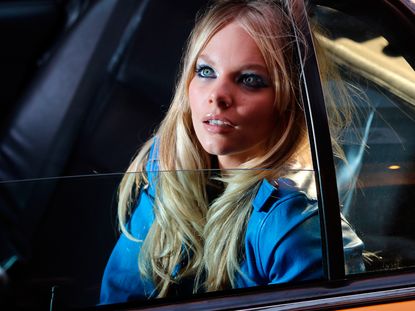 (Image credit: Rex)
Marie Claire meets the model of the moment, Marloes Horst...
Seriously sexy and super cool, not to mention being on every designer's radar, there's a whole ton of reasons why everyone has a crush on Dutch supermodel Marloes Horst. We're off to New York to shoot her for the May issue of Marie Claire. Stay glued to our Instagram feed for behind the scenes pictures… 1. This blue-eyed beauty has been nabbed by Prada, Topshop and Chanel for their catwalk shows and is the beautiful new face for Maybelline New York. Understated and sporty, Horst is a total breath of fresh air in a world of androgynous models. Maybe it's Marloes! 2. Horst has been romantically linked with Brit actor Alex Pettyfer. Everyone went wild when they were seen together at uber cool Californian music festival Coachella last year. 3. She has an Instagram account bound to make anyone swoon. Filled with pictures of her figure in hot swimwear and underwear, Horst is the epitomy of sexy and alluring. No wonder she has more than 100,000 followers.
4. Horst was "discovered" after her and her friend sent pictures of themselves to agencies aged 16. She signed with IMG Paris in 2007 followed by a number of major contract deals including a fragrance contract with Valentino and becoming the face of Calvin Klein swimwear. 5. She counts dancing and surfing as two of her favourite hobbies. Maybe we'll take those up if we end up with the same bikini body. 6. Aside from pictures of her envious bod, Horst likes to post Instagram pics of her dogs, selfies of her travels, and adorable #TBTs to her and boyfriend Pettyfer. Not that we're jealous or anything.
Celebrity news, beauty, fashion advice, and fascinating features, delivered straight to your inbox!
An award-winning health and beauty writer, stylist and creative director, Lisa Oxenham is one of the UK's top beauty editors and the Beauty and Style Director at Marie Claire UK. With 20 years of editorial experience Lisa is a brand partnership expert, and a popular speaker, panelist and interviewer on a range of topics from sustainability to the future of beauty in the digital world. She recently spoke at Cognition X and Beauty Tech Live and is on the Advisory Board for the British Beauty Council's Sustainable Beauty Coalition.
A well-respected creative director she works on celebrity, model and influencer shoots with the highest calibre of photographers, filmmakers, make-up artists and hairstylists to create timeless images, attention-grabbing videos, digital events and masterclasses. Most recently Lisa has directed covers such as Lily Cole and Jameela Jamil, films such as Save The Arts featuring Francesca Hayward and sustainable fashion shoots such as Be The Change. Supporting the beauty industry over the pandemic has been a top focus, directing the British Beauty Council's six inspirational short biographical films for their Bring Back Beauty campaign.
Lisa is a wellbeing and beauty influencer with a focus on mental health and a large and engaged audience on Instagram, Facebook and Twitter.