Barack Obama has been re-elected as President of the United States
Barack Obama defeated Mitt Romney to take a second term in the White House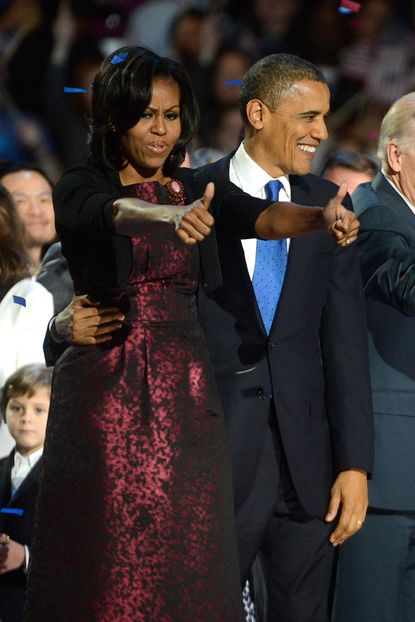 (Image credit: Rex Features)
Barack Obama defeated Mitt Romney to take a second term in the White House
Barack Obama has been re-elected as the President of the United States.
Obama secured the 270 votes in the electoral college he needed to beat Republican Mitt Romney and begin his second term in the White House.
In his victory speech in Chicago, Obama said: 'We've got more work to do. While our journey has been long, we have picked ourselves up, we have fought our way back and we know in our hearts that for the United States of America, the best is yet to come.'
CELEBRITIES WHO SUPPORT BARACK OBAMA
Mr Obamasaid he was returning to the White House 'more determined, and more inspired than ever about the work there is to do, and the future that lies ahead'.
Romney conceded defeat after midnight and gave a brief speech to his supporters in Boston, saying: 'he would 'pray that the president will be successful in guiding our nation.'
The election campaigns for both Obama and Romney were some of the most competitive, expensive and brutal in history. Obama and Romney have spent more than $6bn (£3.7bn) in total, mainly on adverts in swing states such as Florida and Colorado.
Are you pleased Barack Obama will serve four more years? Let us know your thoughts on the US Presidential election in the comment box below.
MICHELLE OBAMA'S STYLE RETROSPECTIVE
BEYONCE'S LAST ATTEMPT TO HELP 'INSPIRATIONAL' OBAMA
Celebrity news, beauty, fashion advice, and fascinating features, delivered straight to your inbox!