Bannatyne bans cancer survivor from gyms
Dragon's Den star Duncan Bannatyne has banned a nurse from his health clubs after she won a court case for a refund of fees while she was battling cancer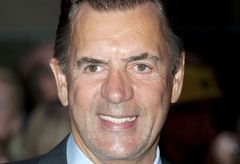 (Image credit: REX)
Dragon's Den star Duncan Bannatyne has banned a nurse from his health clubs after she won a court case for a refund of fees while she was battling cancer
Duncan Bannatyne has caused controversy after he banned a cancer survivor from his health clubs in Britain after she won a court case for a refund of fees whilst undergoing treatment.
Nurse Bronwen Davies, 60, asked for a payment freeze from her Bannatyne gym membership while she received chemotherapy and radiotherapy for cancer, but she continued to be charged the £41 a month fee even though she was in hospital.
Mrs Davies had to go to court to win a £164 refund from the gym owned by the millionaire businessman, but Mr Bannatyne branded the nurse a liar on his Twitter pages after she won the case.
The Dragon's Den star also sent Mrs Davies a personal letter banning her from all 61 of his health club around the country, including her local gym in Llanishen, Cardiff.
'I'm just disappointed, really disappointed that a man of his standing and a national club can behave in such a vindictive and petty way,' says Mrs Davies.
Mr Bannatyne's letter to Mrs Davies read: 'I am not prepared to ever reaccept you as a member at any of Bannatyne Group's health clubs because I strongly disagree with your conduct.'
He then took to his Twitter page, telling his 44,000 followers: 'Only a complete moron would believe that story. The woman is a persistent liar. What can I do? Sue a cancer survivor for lying?'
A spokesman for the Bannatyne Group says: 'The Bannatyne Group supports numerous cancer charities and sympathises with the plight of cancer sufferers, but we will not be submissively bullied by this former member as we have to act in the best interest of all our members.'
Let Marie Claire know your thoughts by posting a comment below.
Celebrity news, beauty, fashion advice, and fascinating features, delivered straight to your inbox!